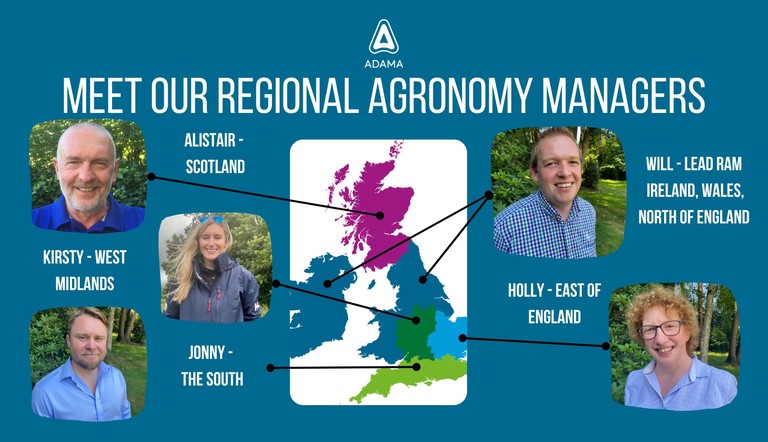 Around the regions with ADAMA's agronomy managers
As has become customary for ADAMA's crop protection hubs, our team of Regional Agronomy Managers discuss how crops in their area have fared over the winter months and offer their advice on what to look out for as the spring approaches.
Spring Blog
17 February, 2023
6min read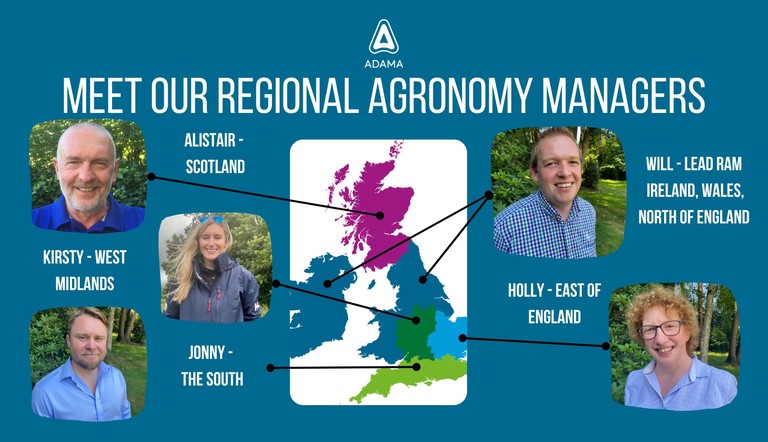 Will Nicholls, Regional Agronomy Manager, North and North Midland
Holly Pratt, Regional Agronomy Manager, East
Kirsty McKenzie, Central England
Jonny Oosthuizen, Regional Agronomy Manager, South-West
Alistair Eccles, Key Account and Agronomy Manager, Scotland
How did last autumn's drilling window unfold in your region and what challenges did growers face as crops were being established?
Will Nicholls: The autumn delivered favourable conditions for drilling, with the good weather allowing those growers without a significant grassweed burden, and crucially with seed on the farm are ready to go into the hopper, to drill up in good time. At the same time, good prices for wheat and OSR meant growers were keen to get the new cropping cycle up and away, and I've heard reports that an increased area of OSR was drilled as an insurance policy against crop failures which, in many cases, didn't subsequently come to fruition.
Alistair Eccles: The main challenge for many growers last autumn was the lack of soil moisture following what was a particularly dry year. That said, the majority of crops went into the ground in great conditions, with germination and establishment proving excellent to allow crop growth to comfortably outpace any pest issues. The autumn's favourable conditions allowed herbicides to be applied in a timely manner and to good effect.
Kirsty McKenzie: Compared to recent years, last autumn's weather was noticeably more consistent with the summer's dry harvest extending into a dry drilling window which, unfortunately, quickly turned wet at the post-emergence herbicide timing before we finally got the first frosts in early 2023. As has become the norm, many growers are facing significant grassweed burdens, with black-grass and ryegrass continuing to require drilling to be delayed. The autumn's dry conditions meant this was certainly feasible, but it did mean conditions for residual herbicide applications were less than ideal. Additional spring herbicide treatments will therefore be necessary where weed control has suffered.
The dry conditions also made oilseed rape drilling difficult, with some growers and agronomists subsequently opting for alternative crops in the fear OSR wouldn't establish quickly enough to withstand grazing by adult flea beetles. Others took a different approach and held their nerve until there was some moisture in the ground to get the crops away in good time. However, with the delay in frost and slower establishment, key herbicides have only gone on it certain cases, allowing weeds to be slightly larger than both growers and agronomists would like. But, all things considered, crops aren't looking too bad given the circumstances.
Holly Pratt: Autumn 2022 was very kind: the dry start forced some growers to delay drilling for fear of ruining machinery, but once there was moisture in the ground there was very little slowing down. On a slightly less favourable note, the stronger winds which developed into late October and November slowed down herbicide applications, leaving some pre-emergence residuals to run out of steam before top ups could be applied.
Jonny Oosthuizen: Farmers across the south benefitted from favourable conditions for the majority of the time during the late summer and early autumn. As always, a few expected (and sometimes unexpected) showers meant drills and sprayers came to a grinding halt but managed to get going again soon afterwards. With the exception of some heavy land, most growers managed to sow their winter crops as planned, and most importantly, crops went into good, firm, moist seedbeds which set them up well for the season ahead. To coin a popular phrase made even more famous by cheerful Charlie in series one of 'Clarkson's Farm', "Well sown is half grown", so a positive start.
How have those crops drilled in the autumn fared over the winter and how are they currently looking?
WN: The good autumn weather has been kind to most crops, with the majority getting up and away without any issues. However, the dry conditions did pose an issue in terms of herbicide efficacy, with lack of soil moisture following application preventing many spray treatments from working as well as they could. As a result, where early sown cereals have received a pre-emergence, they are likely to need a follow up as the weather warms in the coming weeks. 
AE: Overall the winter has been relatively kind with crops currently looking very well. Some crops have actually developed a few too many tillers, and there is some early evidence of disease being present on lower leaves which growers will need to be aware of and manage carefully as the spraying season gets underway.
KMcK: Despite the dry and then cold conditions mentioned above, cereal crops have fared well in terms of growth and canopy cover, with those same weather conditions having a natural slowing effect on the development of rusts and septoria. Unfortunately, parts of my region (notably Herefordshire) faced some very heavy flooding at the start of the year, with river levels rising to a near record highs. The floods have now receded, and whilst some of those crops which were submerged for several weeks are beyond help, others are looking as well as can be expected.
Rape crops are faring well thanks to the development of luscious canopies prior to the onset of colder conditions, with pigeon grazing also relatively light. The recent colder snaps have allowed crops to harden up which means some key herbicides (such as FOX under an EAMU) have now been applied.
As we all know too well, a false spring can lull plants, and us, into a false sense of security, and take a real hit if conditions suddenly turn cold again. But, at the same time, this could really help keep disease suppression up, especially if we don't get significant amounts of rain in the next few weeks.
HP: Crops have fared well through the winter with some very forward cereal crops developing. OSR has been hit and miss again – as it always in the East – with some crops looking well and others having already been written off. The harvest of sugar beet seems to have been unhampered by any weather, although the later lifted crops have been suffering from frost damage.
JO: We had some good spells of cold weather across the south over the Christmas period and into January and February which has satisfied any vernalization requirements and enabled the majority of crops to come through the winter in good condition. There is, as always, a low level of disease in some further-forward crops, whether it be septoria in wheat or mildew in barley, but the cooler temperatures have kept most of this under control. OSR crops have seen some phoma, but fungicide applications have kept this at bay alongside the cold weather which has evened out the crop nicely. That said, pigeons are making their way back into some crops, so be wary.
In reality, March is the month that initiates action with regards to disease control, so making sure your sprayer and chemical store are ready for the season ahead is time well spent. We've still got another couple of months in the foundation phase where tillering and root growth are key focuses, so correctly timed fertiliser applications along with continued monitoring is key for planning ahead. There have been mutterings of spring barley drilling taking place on social media, so attention to detail when prepping the seedbed and drilling is obviously very important here.
What's are weed and disease burdens looking like going forwards?
WN: The 'let's see what happens' approach that some growers have adopted with their winter OSR has left many crops without a clomazone/metazachlor type pre-emergence. As a result, a lot of crops are currently facing a heavy weed burden at a time when they are also being put under pressure by grazing pigeons. In this situation, growers can use propyzamide and bifenox (available via EAMU label extensions) to provide some later weed, but it's safe to say those crops would be in a better position had they received a pre-emergence treatment, especially with crop prices as they were at the time of drilling.
In terms of disease pressures, the vigorous growth prior to Christmas has enabled crops to build thick canopies which, although still relatively clean, could come under greater threat of diseases as the weather warms and turns wet again. Regular crop inspections will therefore be needed to keep an eye on any disease symptoms that might be present in lower levels of the canopy, with a T0 spray a good option if there's any indication that diseases are creeping upwards. This early spray timing will be even more crucial for early drilled crops and those varieties which are naturally more susceptible to disease, with the inclusion of ARIZONA (500 g/L folpet) recommended to provide contact protection. In situations where rust may already be present, it is worth partnering folpet with an azole chemistry.
AE: We saw good results from autumn herbicide treatments, so weed burdens aren't currently too worrying. For any weeds that have made it through the winter, T0 and/or T1 herbicide applications will hopefully be adequate. Of greater concern is the potential for mildew in barley and septoria in wheat: with the latter already present in the lower leaves of some crops these early infections have the potential to act as a source for the disease to spread to yield-contributing leaves, so the spring spraying window will be critical.
KMcK: The dry autumn and subsequent wet weather meant a lot of herbicide chemistry was running out of steam going into the winter which means spring top-ups are likely to be needed to control grassweeds and broadleaved weeds. As well as helping against grassweeds, an application of TOWER (CTU, PDM & DFF) will also help to control difficult weeds such as groundsel, annual meadow grass and poppy, and would be a valuable addition to spring herbicide programme for winter and spring cereals. 
Wild oats always seem to present a big problem, especially as increasing resistance to many herbicides makes them difficult to control. Using a product such as TOPIK (clodinafop-propargyl) will aid control: as with any herbicide, maximizing the application is a must, with the correct water volume, a sensible spraying forward speed, effective nozzles, and dose rate all key to ensuring optimum coverage and therefore better efficacy. If you have any doubt about herbicide resistance it makes sense to have weed samples tested so that you can make informed decisions about how best to tackle the problem.
From a disease perspective, septoria (AKA the yield robber) is the big one to be wary of, with yellow rust also becoming increasingly troublesome in recent years because of varietal breakdown and drier, warmer springs. A well thought out fungicide programme consisting of a mixture of mode of actions will target these key diseases and allow the crops to yield well, with the addition of ARIZONA (folpet) providing good efficacy against septoria and rusts, with T1 being the main timing for its inclusion, but it can also be used at T0 and/or T2 as required. Including folpet helps to prolong the life of single site herbicides by delaying the development of resistance.
HP: There's no such thing as a 'normal' season anymore, so it pays to keep on top of diseases and weeds by staying in a protectant scenario. In terms of disease control that means keeping a close eye on early drilled crops to make sure any low-level diseases don't get out of control: 1l/ha of ARIZONA applied at T0 is a worthy addition to fungicide programmes where disease pressures are high and where a vulnerable variety is being grown. It also pays to be mindful that, where crops were drilled early, the residual activity of herbicides may be fading and so weed emergence should be monitored carefully. We also need to be mindful that cold and dry conditions reduce the efficacy of ACCase herbicides: the use of adjuvants and robust rates will help here.
JO: Given the favourable conditions in the autumn, many crops have gone into the ground well, benefitted with some early weed control and have great potential going forward. This allows growers to take a proactive and positive approach to management with the understanding that they're currently on the 'front foot' – a great place to be. This strong starting position, whilst positive, does open up more risks such as earlier disease pressure and increased potential for lodging further down the line. Down in the south disease pressure differs from east to west and sometimes from field to field. Whilst there are a number of mitigation options depending on the disease, the obvious starting point is understanding the inherent susceptibility of the variety. But this is only part of the calculation: as long as careful monitoring continues along with diligent planning in order to keep disease out of the crop for as long as possible, yield potential can be maximised. Using folpet as a key foundation element to your fungicide programme gives you the early contact protection which helps efficacy, green leaf maintenance and positively impacts ROI whilst also forming a key part of your IPM approach to resistance management.
Are there any specific issues growers should be wary of as the spring approaches?
WN: The key thing to remember as we move into the spring is to keep an eye on any underlying problems that may be lingering as a result of the early and dry autumn. For some that will mean getting a spring herbicide treatment applied in good time to knock back excessive weed burdens, and for others it will mean kick-starting fungicide programmes off in good time to ensure disease pressures don't escalate out of control.
AE: For advanced crops, extra attention will be needed when it comes to applying growth regulators. Similarly, the season's first applications of nitrogen shouldn't be applied too early where crops are ahead of schedule. Growers should also resist the temptation to drill spring sown crops too soon, instead waiting for seedbed conditions to be optimal. In terms of disease control, an application of folpet at T0 and/or T1 will protect against septoria in winter wheat. Likewise, if the early season is wet, folpet at T1 will safeguard winter barley against ramularia, rhynchosporium and net blotch.
KMcK: My specific advice would be to plan for the unexpected: with Mother Nature to contend with, nothing ever seems to go as it should, so it makes sense to ensure crops are properly protected from the outset so that we're not left firefighting later on. Adding folpet to the mix of spring fungicide sprays is a prime example of how this can be achieved. Finally, if there's ever anything you aren't sure about, or if you simply need to sense check an idea, please do get in touch:  we're here to help and to ensure growers get the best out of our products.
HP: Protection rather than cure is the key mantra again this year. Rather than being reactive to disease outbreaks once they have taken hold, it makes more sense to protect crops from the outset, with products like ARIZONA which is a contact protectant providing good returns on investment.
In sugar beet it is important to have good weed control in place, even in low weed pressure situations, with a pre-emergence application of either GOLTIX (metamitron) or GOLTIX TITAN (metamitron and quinmerac) recommended.
As always, application timing and coverage is key to ensuring all fungicides and herbicides provide the very best levels of efficacy.
JO: This time last year I wrote a similar article and when asked about specific advise for the spring season ahead I wrote: "Plan early, plan for the long term and plan for success." I think this remains appropriate now, with past experiences telling us that prevention is better than cure, so staying on the front foot is key. Our actions this season have effects that could span across other seasons with regards to fungicide and herbicide resistance, so be sure your approach is appropriate for the long-term. And remember, although early disease intervention results in good protection and prolonged green leaf retention, it's important not to fall at the last hurdle: as we so often hear, "yield is king", and appropriate rates of proven chemistry applied at the correct timings is a key part of building those yields.