Rimon 100 EC
Control of larval stages of all insect pests.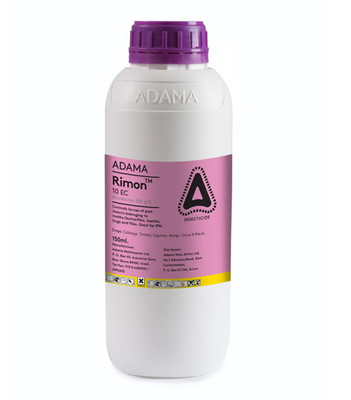 General Info
Rimon 100 EC  is an Insect Growth Regulator (IGR) acting on the larvae of various insects, including memebers of the orders: Lepidoptera, Coleoptera, Hemiptera, Diptera and Siphonaptera. It acts by inhibiting chitin formation, thereby inducing abnormal endocuticular deposition and abortive moulting. It fits well in IPM modules.
WHO toxicity class: II (Moderately hazardous).
Application Advice
Application Rates
| Crops | Pests | 200L of water (ha) | 80L of water (acre) | 15L of water (Knapsack) |
| --- | --- | --- | --- | --- |
| COTTON | Boll worm, leaf worm, white fly | 250-720 ml | 100-200 ml | 20-35 ml |
| VEGETABLES | Boll worm, leaf worm, diamond black moth | 250-720 ml | 100-200 ml | 20-35 ml |
| MANGO | Larvae of fruit flies, stone weevil | 250-720 ml | 100-200 ml | 20-35 ml |
| CITRUS | Leaf miner, white fly | 250-720 ml | 100-200 ml | 20-35 ml |
| MAIZE | Stalk borer, boll worm, army worm | 250-720 ml | 100-200 ml | 20-35 ml |