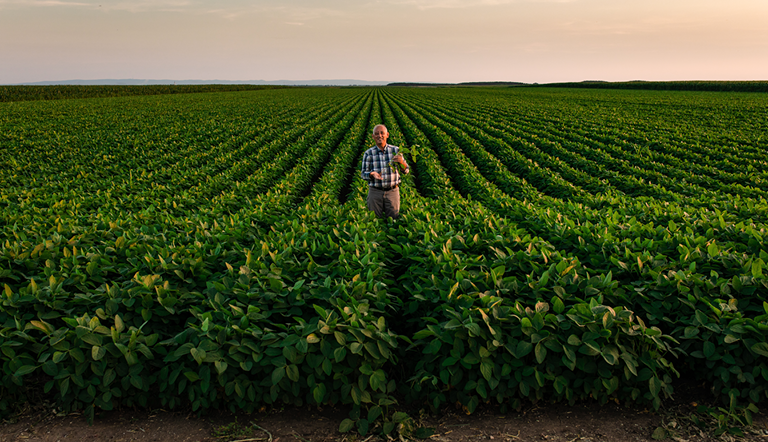 Soybean / Soya Bean Farming in South Africa
Soybeans are indigenous to Manchuria, China and are one of the five oldest cultivated crops. They were first introduced to sub-Saharan Africa by Chinese traders in the 19th century and by 1903 they were being commercially farmed in South Africa.

Soybean Farming
04 July, 2023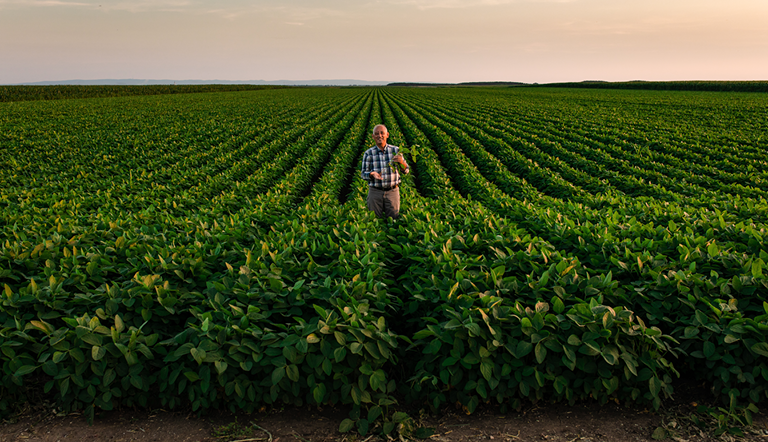 Soybeans are indigenous to Manchuria, China and are one of the five oldest cultivated crops. They were first introduced to sub-Saharan Africa by Chinese traders in the 19th century and by 1903 they were being commercially farmed in South Africa. 
Soya beans are used for animal feed and a wide variety of food products for human consumption. 
The terms soybean, soyabean or soya bean all refer to the same legume; in South Africa, the soybean is commonly referred to as the soya bean.
Soya bean production in South Africa
Soya beans are an excellent rotation crop for maize farmers as they bind nitrogen, and reduce the amount of fertiliser required. They are grown in Mpumalanga, KwaZulu-Natal, Gauteng and Limpopo, as well as some areas in the Free State and North West. 
Depending on rains and the different types of soybeans, seeds will be planted from mid-October in the eastern regions and a month later in western regions. Warm soil and a specific number of hours are required for germination.
Driven by demand, the area under soya beans has recently expanded rapidly. 
In the early 1970s, 20 000 ha were planted; by 1992 that had more than doubled to 46 000 ha; and by 2022, South Africa's Crop Estimates Committee anticipated that 925 300 ha had been planted, with an expected yield of 2,38t/ha. 
The 2022 estimate suggested that the 2,2 million ton mark would be breached seven years ahead of schedule. (In 2020, the Bureau for Food and Agricultural Policy projected that production of soya beans in South Africa would surpass 2,2 million tons by 2029.)
As Dr Pieter Taljaard, CEO of Grain SA, said, "Since the turn of the millennium, we saw an approximate sixfold increase in the area planted and a sevenfold increase in production. This past season [2022] was a record year, both in terms of area planted and the production of soya. Although this growth comes from a very low base, it still seems like the industry was talking about a production goal of one million tons of soya beans just the other day."
From 2010 to 2020, there was also rapid expansion in South Africa's soya bean crushing capacity, due to the government's import replacement strategy and investments aligned to this. South Africa crushed a total of 1 230 399 tons of soya bean in 2020 compared to 406 900 tons in 2010 – a 202% increase. 
The vast majority of soya beans in South Africa end up in animal feed, as meal (10,3%) and soya bean oil / oilcake (88,1%). Just 2% is destined for the human market, either as white flakes  (also referred to as defatted soya bean meal) or as textured vegetable proteins (TVPs) to be used in food value chains:
Soya product
Full-fat soya
bean meal
White flakes
TVPs
Soya protein
concentrates
Soya protein
isolates
Composition
40 to 42% protein,
20% oil
50 to 54% protein,
1% oil
50 to 54% protein,
1% oil
65 to 70% protein,
1% to oil
90 to 92% protein,
1% oil
Example 
of end-use products
Breakfast 
products, blended 
cereals.
Meat analogues,
(absorption agents, extenders).
Processed meat, meat analogues (soya
mince), meat extenders, soya milk,
smoothies, milkshakes, yoghurt, infant
formulas, baked goods, flour, baked
goods pre-mixes, porridges, soups, 
sauces and nutritional shakes
Processed meat (polony, Viennas, burger patties), health suppliments (protein 
shakes, health bars), meat and dairy analogues, malnutrition packs and 
breakfast cereals.
Source: Muller et., (2018); BFAP interviews with industry role-players
Imports and exports 
Aside from whole soya bean, South Africa at times also imports soya oilcake for the animal feed market. Textured vegetable proteins (TVPs), soya protein concentrates and soya protein isolates mainly destined for the food market are also imported.
"Despite the increasing soya bean production levels over time, South Africa still imports soya bean to satisfy oilcake demand from the animal feed sector, [which is driven by] increases in the demand for high protein food, specifically meat, within the growing middle class and more affluent market segments," notes the Bureau for Food and Agricultural Policy. 
Records show that in 2020, soya bean imports amounted to 62 063 tons, mainly from Brazil (88,9%), Zambia (6,7%), Mozambique (2,6%) and Malawi (2,1%). 
Up to now, South African exports of soya bean have been low – in 2020, exports went mainly to Botswana (63,1%), Mozambique (34,8%), Lesotho (1,1%), Eswatini (0,8%) and Zimbabwe (0,2%). However, by 2029, if production increases at its current rate, South Africa is expected to be self-sufficient in terms of soya demand for  animal feed, and exports are likely to have increased.
Outlook for South Africa's soyabean industry
GLOBALLY: According to Indexbox, global soya bean consumption increased steadily from 2020 to 2021, while global stocks have been rapidly depleting. "China, accounting for 60% of global soya bean trade growth in 2021, is currently the key driving force of the world market. The expected recovery in biofuel demand as the economy re-emerges following the Covid-19 pandemic, also shapes expansion of the raw soya bean market. 
"The high prices may yet curb the biofuel market's growth rate, removing soya bean fuel as a viable competitor in terms of conventional fuel types. The fear that the demand for soya bean will soon exceed supply, combined with rising production costs, contribute to price increases. The average soya bean price (CIF Rotterdam, US origin) in 2020 stood at US$380/ton; in the first half of 2021, prices soared to US$544/ton. This should lead to higher prices for meat, animal feed and biofuel."
LOCALLY: Soya oilcake remains the dominant protein source in South African animal feed. This dominance has increased over time and will continue to do so. Supply continues to increase to meet local demand, which is predicted to require 1 784 257 tons of soya beans in 2029, according to projections by The Protein Research Foundation and the Bureau for Food and Agricultural Policy.
"Soya oilcake produced in South Africa in 2020 provided 79% of the country's soya oilcake requirements [up from only 16% in 2009]," note Dr Dirk Strydom and Dr Erhard Briedenhann. "It is projected that this can increase to 97% in 2023 and to 100% in 2029. According to the projections, feed requirements will increase to 12 973 505 tons in 2023 and to 14 544 284 tons in 2029. Soya oilcake requirements will be 1 218 087 tons by 2023 and 1 427 406 by 2029."
In terms of its potential as a food for human consumption, "there seems to be a significant opportunity for growth (particularly TVPs) in the African market," write Dr Hester Vermeulen of the Bureau for Food and Agricultural Policy, and Dr Melissa van der Merwe of Stellenbosch University.
They recommend the following actions for market expansion: 
Consumer education regarding the health and environmental benefits of soya-based food, as an alternative or supplementary protein source. 
Improvement of the 'beany' taste of soya products through, for example, improved cultivars or processing innovation. Sensory consumer research could yield a more detailed understanding of consumers' taste preferences and product perceptions (also among children in lower-income households in terms of school feeding programmes).
Quality improvement and consumer education to address consumers' perceptions regarding the possible low quality and 'poor person's meat' stigma of soya-based meat alternatives.
Since some food manufacturers demand non-GMO soya derivatives, the local capacity to produce non-GMO soya bean could be expanded (currently less than 1% non-GMO soya bean is produced in South Africa)
Pests and diseases 
Yield can be affected by weeds, pests and soybean diseases. Besides a wide range of herbicides registered for the control of various species of grasses and broad-leaved weeds, ADAMA also has solutions for common soya bean pests and diseases.
Custodia™ 320 SC is registered for the control of soybean rust (Phakopsora pachyrhizi) and contains a full dose of both azoxystrobin and tebuconazole, the active ingredients. This suspension concentrate fungicide provides excellent contact, translaminar (remains in the leaves for a period of time) and systemic control for up to 28 days. 
ADAMA has two solutions registered for the control of African bollworm, semi-looper and leaf-eater larvae in soybeans. Both have a systemic, contact and stomach action, as well as chitin inhibition: