Plemax®
Plemax® a new mode of action insecticide for chewing pest control in brassica, leafy and fruiting vegetable crops.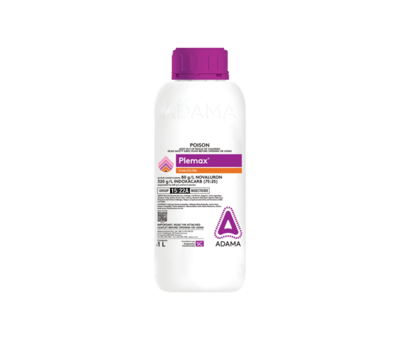 Tomato grower discusses the use of Plemax to target Heliothis

Daniel Polson from ADAMA introduces Plemax insecticide.

Grower Andrew Zanghi talks about Plemax from ADAMA and how it is used to help control Diamondback Moth.
Plemax Insecticide: A Dual Mode of Action for Optimal Crop Protection 
Plemax is a highly effective insecticide that provides robust knockdown and residual control of key chewing pests in brassicas, leafy vegetables and fruiting vegetables (excluding cucurbits). Formulated as a high quality suspension concentrate (SC), Plemax is a unique combination of two active ingredients, novaluron and indoxacarb.
______________________________________________________________
General Info
Plemax Insecticide At A Glance
✔ New Mode of Action (MOA)
Plemax introduces a new mode of action (Group 15) for use in brassicas, leafy vegetables and fruiting vegetables (excluding cucurbits).
✔ Dual MOA
Plemax combines indoxacarb with novaluron for improved efficacy and resistance management.
✔ Excellent Knockdown & Residual Control
Plemax provides excellent knockdown and residual control of hard-to-control pests, such as Diamondback Moth and Helicoverpa spp., as well as other key chewing pests.
✔ Protects Yield and Quality
Plemax protects yield and quality by significantly reducing feeding damage caused by chewing pests.
✔ Integrated Pest Management
Use in IPM programs based on crop monitoring, economic thresholds & beneficial insects
Application Information and Resources
Application timing for Plemax Insecticide
Plemax should be applied after monitoring of pest populations to determine the need for application based on local thresholds and to ensure the correct timing of application. More than one application of Plemax may be required to control a pest population. Where multiple applications are required, Plemax should be used in rotation with other modes of action.
It is essential to consult the product label for specific instructions on timing and application rates for your particular crop and pest. If you have any questions or concerns please contact your ADAMA rep
Resources
What crops are protected by Plemax?
Plemax is a suitable insecticide on the following crops:
Broccoli
Brussels Sprouts
Cabbage (closed head varieties only)
Cauliflower
Chicory
Chinese Leafy Vegetables (Bok Choy, Choy Sum, Chinese Cabbage) 
Cress
Eggplant
Endive 
Fennel
Kale
Lettuce (closed head and leafy varieties)
Mustard
Peppers (Capsicum and Chilli)
Silver Beet 
Spinach
Tomato (trellis and field)
What pests does Plemax insecticide target?
The unique combination of novaluron and indoxacarb work to target different mechanisms in insect pests.
Plemax has been proven to work in protecting crops from the following pests:
Cabbage cluster caterpillar 
Cabbage white butterfly
Centre Grub 
Cluster caterpillar 
Cotton bollworm 
Diamondback moth
Native budworm
Potato moth (Tomato leaf miner)
Please refer to the Product label for the best application rates for your crop and pest