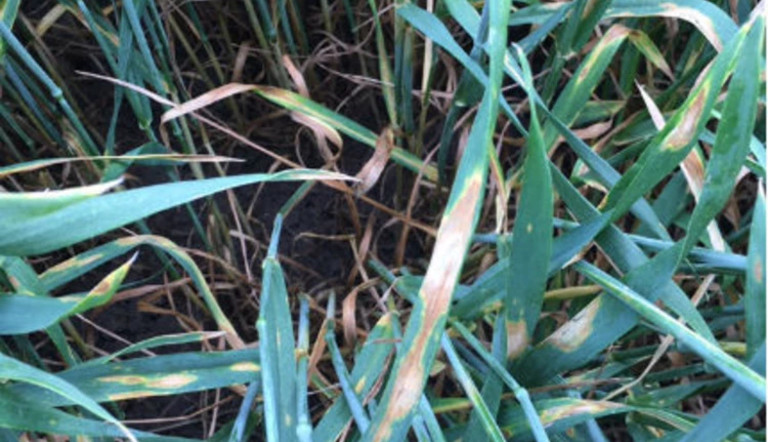 Snow mould - widespread but relatively unknown
Cereal growers must be aware of snow mould in winter wheat as the disease, with symptoms that are often confused with Septoria or Fusarium, can infect all parts of the plant
Featured Stories
17 May, 2017
6min read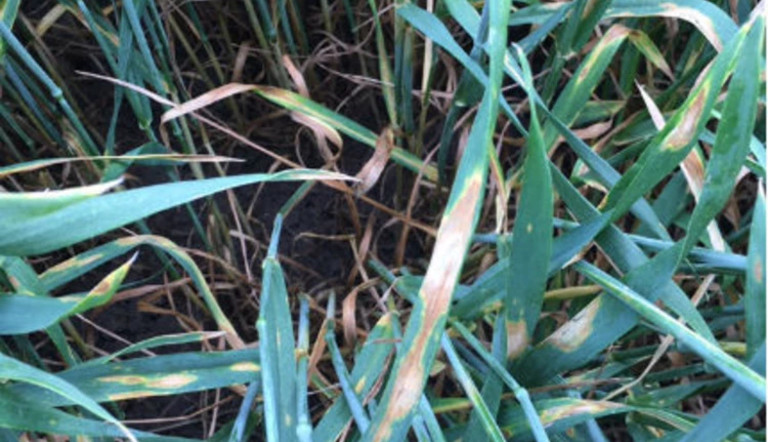 Snow mould not only occurs in wheat and barley, but also in rye and triticale. However, the correct selection of variety, proper seed treatment, the right choice of fungicide and good incorporation of crop residues can help to fight the disease.
Snow mould is often discovered once snow disappears from the crop after winter. It can be recognized by its pink mycelium and can cause serious losses among plants. More symptoms appear on plants later in the season: grey patches on the stems and watery spots on leaves which turn brown later on. Snow mould is also part of the 'fungal complex' that causes Fusarium Head Blight.
Remarkably, little is known about this widespread fungal disease. According to Dr Michael Hess, phytopathologist at the University of Munich, snow mould nowadays is a complex of Microdochium nivale and Microdochium majus, which can both damage the cereal crop. Research on this disease is important because snow mould appears to have become more evident in fields during the last few years. "Snow mould is a complex disease, influenced by many different factors. Favorable circumstances are wet, cool periods in summer," explains Dr Hess.
Pathogens
Whether snow mould's more frequent appearance is a problem depends on whether other diseases are effectively controlled, says Dr Hess. Microdochium nivale and Microdochium majus are relatively weak pathogens which are usually dominated by major pathogens like septoria and fusarium in wheat, rhynchosporium in barley and rye and ramularia in barley. When these pathogens are controlled, microdochium species can effectively fill the niche, if the treatment is not also effective for snow mould.
Many fungicides controlling major pathogens have side effects that affect snow mould, but these are mostly insufficient to produce an optimal result according to Dr Hess. "It appears that many groups of fungicides have lost their efficacy against snow mould. Positive exceptions are prochloraz and prothioconazole, but these could still be improved. Timing is a particular issue."
Snow mould also benefits from a loss of efficacy of some fungicides (for example triazoles). Since the control is not targeted at snow mould it appears to be among the first pathogens to adapt and thrive in that control gap. Dr Hess' studies are focused on the situation in Germany. There are a number of publications from other northern European countries, but they are mainly focused on other issues like crop emergence, frost tolerance of varieties and fusarium head blight and microdochium is mentioned as an aside. There is no monitoring being done using comparable methods or standardized diagnostics, according to Dr Hess. "But I know from colleagues in other countries such as UK, Denmark, Czech Republic and France, that they are encountering the disease more often and that awareness is growing."
Awareness
Although the first symptoms can appear in autumn, most symptoms arise in spring. According to technical specialist Jacob Swart from Agrifirm Plant in The Netherlands, the disease is not always correctly identified. That is why it is so important that growers become more aware of this disease, he explains. "We had years in which snow mould caused 500 to 1,500 kg reduction in yield per hectare. In 2015, the infection in fields was huge, causing yield losses and reduced revenues."
Swart says growers can take several preventative actions, such as incorporating crop residues in the soil thoroughly (preferably by ploughing), because snow mould can survive on these residues. A rotation of wheat on wheat will also increase the risk of infection. Other preventative measures include proper seed treatment and along with the timely application of nitrogen in Spring. Cereal fungicides such as strobilurins and carboxamides are not sufficiently effective to control the fungus. Some triazoles and prochloraz do work, but only give an approximately 50 percent reduction, according to Swart.
Stacking
"From practical experience, we believe that four applications of fungicide give a better result than two, but the point is that we should also look at the costs. Stacking of fungicide applications can be a solution, but it is not completely clear whether the last spray has sufficient effect to be cost-effective." According to Swart, growers can also get better results if they spray in time. "Timing with the current products is good, but you might wonder whether the intervals are too big. Snow mould mostly appears after the last spray has been applied. Spray intervals and timings can probably be optimized."
Challenges
Studies have been done on microdochium in the past, but only occasionally and mostly with another focus, says Dr Hess. Consequently, not enough is known in order to meet the current challenges that the disease presents, he adds. "We try to understand the epidemiology and differentiate between Microdochium nivale and Microdochium majus. We particularly want to improve the knowledge of the life cycle with a focus on leaf blotch, fungicide sensitivity, host preference and varietal resistance. In this way, we try to identify and optimize opportunities for control and understand the impact on yield."
Stay in touch
Subscribe to get the latest news about ADAMA.