Weedblock® 62.5 ME
Control of grasses and broadleaf weeds in legumes can be laborious. Experience a dual action solution with Weedblock® 62.5 ME and reduce field operation cost for more...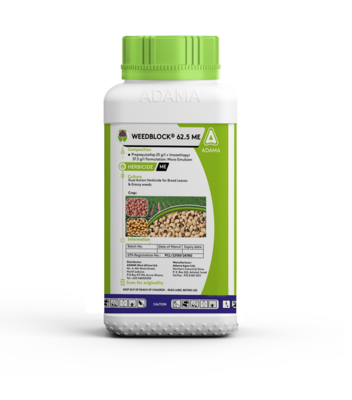 Block the Weeds, optimize yield!
This unique solution allows farmers to manage weeds effectively while protecting their crops. The scientific benefit here lies in providing growers with an effective tool for weed management without causing harm to the cultivated plants. Its selective action targets specific weed species while sparing the cultivated crops to enjoy soil nutrients to thrive.
General Info
Weedblock® 62.5 ME
The excellent composition of Propaquizafop + Imazethapyr makes Weedblock® an effective selective early post-emergent herbicide with both residual and contact activity for control of grasses and broadleaf weeds in legume field;
Cowpea
Groundnut
Soyabean
Application Advice
Application Rate
150ml/ 15L of clean water in Knapsack (2L / Ha)
Application Timing
Apply Weedblock® after emergence of cowpea, groundnut and soyabean; when leaves are at 2-4 leaf stage with enough moisture in the soil
Mixing
Half-fill the knapsack with clean water.
Add the required amount of Weedblock® 62.5 ME to the water and mix thoroughly
Top up knapsack with water to required level and agitate to ensure thorough mixture
Recommended Crops
Legumes
Soy bean 
Cowpea
Ground nut
Contact us
Contact us for further technical assistance on product use