Proviso®
A unique prothioconazole fungicide formulation, incorporating Asorbital™ formulation technology for enhanced uptake and systemic activity.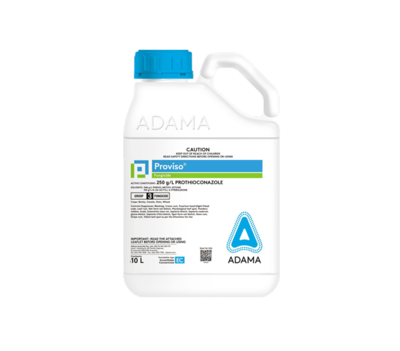 ADAMA Australia's Matt Sherriff giving his top tips about blackleg management in canola, including the different disease lifecycle stages to look out for.

Matt Sherriff, ADAMA fungicide Portfolio Manager, discusses the symptoms of Blackleg a major disease in canola

Matt Sherriff, fungicide Portfolio Manager ADAMA Australia, introduces Proviso, our new foliar fungicide with activity on the key diseases in canola

Matt Sherriff, fungicide portfolio manager ADAMA Australia discusses rotating fungicide mode of action groups to control canola diseases from seed treatment to flowering application
General Info
Proviso® fully adjustable disease control.
Build your foliar disease program with NEW Proviso Fungicide from ADAMA Australia, the most versatile tool in your shed.
Proviso Fungicide is ideal for cereal, oat and canola producers who want to customise their foliar disease program. The unique Asorbital™ formulation technology delivers enhanced uptake and systemicity of the active ingredient prothioconazole. The result is superior efficacy, rainfastness and mixing compatibility with other fungicides and herbicides.
At a glance
Broad spectrum control of key foliar diseases
Flexible application rate, alone or tank-mixed
Excellent compatibility and crop safety
Proviso® Compatibility
Compatible tank-mix partners
These products are physically compatible with Proviso® fungicide

| Herbicides | Insecticides | Fungicides | PGR / Other |
| --- | --- | --- | --- |
| 2,4-D Amine 625 | Alpha-Scud® | Orius® | Optex® |
| 2,4-D Ester 680 | Karate* Zeon | Radial® | UAN |
| Amicide* Advance 700 | Aphidex® 800 WG | Veritas® Opti | Agrichem Activist* Red |
| Bronco® 400 | Pyrinex® Super |   | Agrichem Activist* Max Zinc |
| Bronco® MA-X | Transform* + Agral* |   |   |
| Colt® | Trojan* |   |   |
| Farmozine® | Venom® 240 |   |   |
| Firepower® 900  |   |   |   |
| Flagship® 400 |   |   |   |
| Inego® |   |   |   |
| Legacy® MA |   |   |   |
| Lepopard® 200 |   |   |   |
| LVE MCPA 570 |   |   |   |
| Mandate® |   |   |   |
| MCPA 750 |   |   |   |
| Platinum® Xtra 360 |   |   |   |
| Quadrant® |   |   |   |
| Shogun® |   |   |   |
| Triathlon® |   |   |   |
| Talinor* |   |   |   |
| Victory® 600 |   |   |   |
| Zulu® XT |   |   |   |
| Intervix* |   |   |   |
| Frequency* |   |   |   |
| Paradigm* WG |   |   |   |
| Velocity* |   |   |   |