Spraytop® 330
Spraytop® 330 SL from ADAMA is a concentrated formulation of paraquat with the convenience of an in-built adjuvant.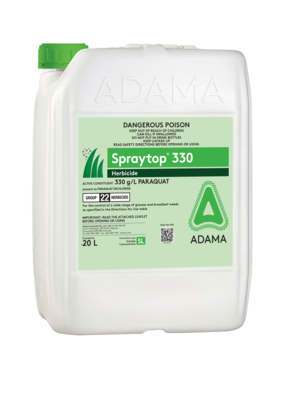 General Info
Paraquat is a non-selective contact herbicide absorbed by the plant foliage, providing broad-spectrum control of broadleaved weeds and grasses in fallow, cropping and pasture situations.
 
Benefits
Benefits of Spraytop®  330 include reduced overall cost per ha as there is no requirement for an additional adjuvant to be added to the spray tank.  The high concentration enables reduced handling which is well received by end-users from an OH&S perspective, in addition to reduced transport and storage requirements.