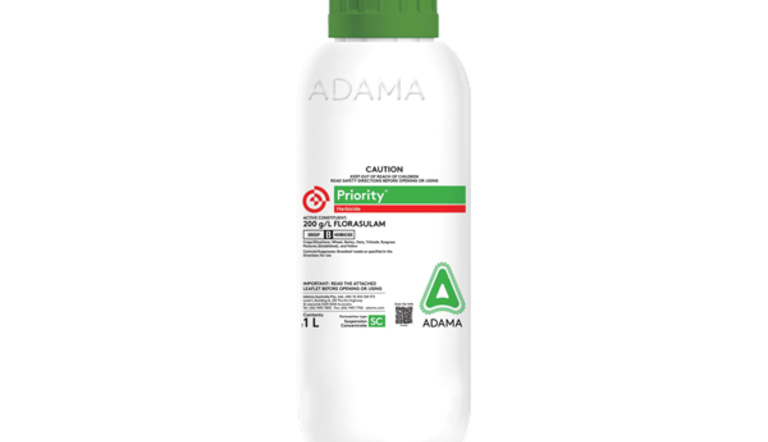 New tank mix partner a 'priority' for broadleaf weeds
GRAIN growers will have the option to strengthen and broaden their cereal crop management plans in relation to controlling broadleaf weeds, volunteer pulses and canola in the coming season following the development of a new, more flexible and cost-effective herbicide tank mix partner.
News
26 April, 2021
6min read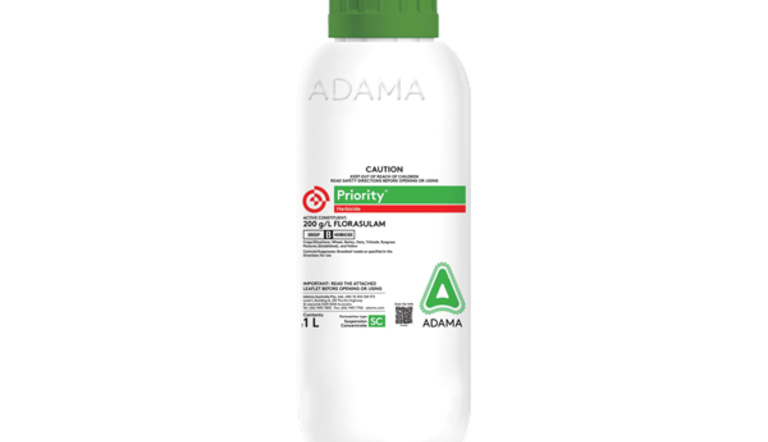 Priority, a Group B post-emergent herbicide launched by ADAMA Australia, importantly offers excellent crop safety and allays residue concerns particularly in oaten hay and also following crops.
ADAMA Australia Portfolio Manager – Herbicides, Rob Walker, said Priority was an ideal first choice for tank mixtures to broaden the weed spectrum and enhance the performance of tank-mix partners, targeting up to 54 broadleaf weeds, and to control volunteer, non-imidazoline tolerant varieties of canola and pulses.
Priority contains florasulam, an acetolactate synthase (ALS) inhibitor, in a suspension concentrate formulation and once absorbed via weed foliage or roots, it is translocated to the growing points via the xylem and phloem.
"An important benefit of florasulam is that it does not bind to stubble or plant material and has a relatively short half-life in the soil. Reduced soil residual enables greater flexibility for rotation crop options compared with other Group B herbicides such as metsulfuron or clopyralid (Group I),'' Rob said.
Priority is effective against susceptible weeds from the two to eight-leaf stage, depending on the weed species and/or weed size.
It can be applied with registered tank mix partners including LVE MCPA 570, Triathlon®, Picoflex® plus MCPA 750, 2,4-D Amine, 2,4-D Ester, Flagship® 400 and Bronco® MA-X between the three and flag leaf crop stages (GS13-37).
"Additional tank-mix options are an ongoing proposition, with extensive research continuing to aim for expanded mixing options in the future,'' Rob said.
ADAMA Australia Market Development Manager – SA, Ashley Pilkington, expected Priority would predominantly be used as a spike with Triathlon to control volunteer pulses, clover and medic.
Ashley said it would also be used to target brassica weeds including Indian hedge mustard, wild turnip and wild radish, in addition to capeweed.
While Priority is registered for application in fallows and established ryegrass pastures as well, he said it would mainly be used in wheat, barley and oat crops in SA.
The excellent crop safety and a favourable pre-harvest interval enhances Priority's use in oaten hay crops, where the use of alternative options such as clopyralid can result in residue concerns. Residues in oaten hay can impact trade with countries that do not have established maximum residue limits.
"Priority and LVE MCPA 570 or Bronco® MA-X will be ideal tank mix options for oats,'' Ashley said.
"Some herbicides such as dicamba can result in adverse crop effects in cereals. Others, such as clopyralid or metsulfuron limit rotation crop flexibility given their residual characteristics.''
He said Priority had demonstrated excellent crop safety throughout extensive national trials. Furthermore, the wide range of tank mix partners Priority could be used with provided plenty of flexibility for growers, allowing them to adjust herbicide mixes according to crop type, weed spectrum and seasonal conditions.
Priority herbicide is registered for post-emergent application in wheat, barley, oats, triticale, established ryegrass pastures and fallow. For further information on the new tank mix partner, growers can contact their local ADAMA Australia representative, sales agent or visit the Priority product page here.
ADAMA Australia trials demonstrating excellent control of volunteer vetch 49 days after treatment is an application of Triathlon post-emergent herbicide at 750 mL/ha in a tank mix with the new Priority herbicide at 25 mL/ha and wetter (centre right), compared with a stand-alone application of Triathlon at 750 mL/ha (centre left).
Pictured shows the uncontrolled volunteer vetch.