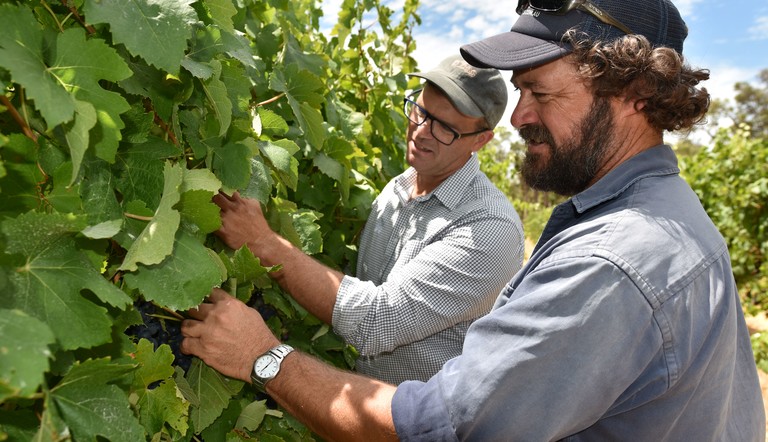 Trial shows smart approach to critical grape insect and disease control
Scale and mealybug populations have been escalating in various wine regions, posing concerns for vine vascular health and related diseases.
Product News
26 August, 2023
6min read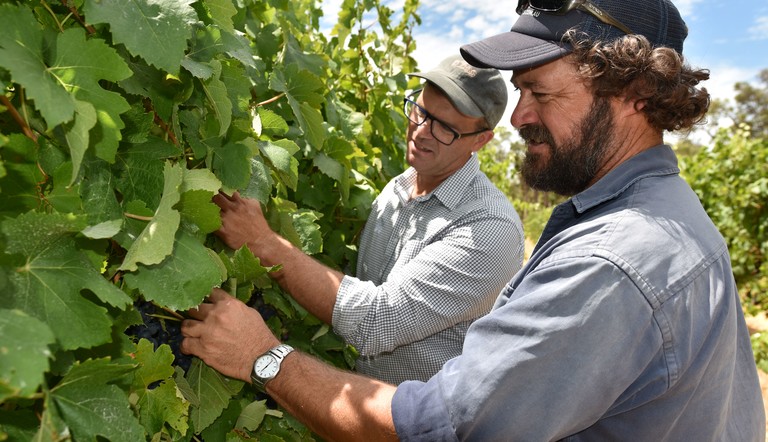 GRAPEVINE scale and long-tailed mealybug have been a growing bugbear for various vineyards, however latest trials with a dual mode of action insecticide are showing early application benefits and a unique ability to mix with fungicides and help achieve cost savings. 
Scale and mealybug populations have been escalating in various wine regions, posing concerns for vine vascular health and related diseases. 
FABAL Group, which owns and manages vineyards across the country, has used Trivor® insecticide as a component of its control programs for vine scale in South Australia and last year it hosted a trial of the insecticide against long-tailed mealybug at the Grand Vin Estate property near Cowaramup in Western Australia. 
The property comprises about 41 hectares of predominantly Shiraz and Cabernet varieties, plus some areas of Merlot, Chardonnay and Sauvignon Blanc grapes. 
In the trial, Trivor was compared alongside industry standard insecticides at different application timings and in different sequences. 
Developed by ADAMA Australia, Trivor combines acetamiprid for rapid knockdown and pyriproxyfen's residual control, two highly effective active ingredients from the 4A and 7C insecticide groups that also target light brown apple moth (LBAM) and, importantly, have minimal impact on beneficial insects. 
Daniel Polson, the company's Southern Market Development Manager - Horticulture, said the dual mode of action chemistry in Trivor provided extended control throughout the lifecycle from the egg through to the juvenile adult stage. 
Daniel said long-tailed mealybug had a long window of infestation, so it was vital growers had good maintenance control programs early in seasons to combat them. 
Trivor was applied at E-L15 and E-L19 in the trial and it highlighted its strong effectiveness at the earlier growth stage, while over time it also showed superior control of long-tailed mealybug. 
Daniel said there were only limited effective insecticides available against long-tailed mealybug and their length of control was shorter, so rotating Trivor with these insecticides would help extend their use, as well as assist resistance management. 
Richard Bateman, Regional Manager WA for FABAL Group in the State's Margaret River region, said depending upon seasonal conditions, long-tailed mealybug and, to a lesser extent, LBAM, can pose a significant threat to productivity in the region's vineyards. 
Richard said to prevent long-tailed mealybug population build-up, sooty mould development and the potential for related viruses, early control was the best strategy and this was evident with Trivor in the trial, as well as its extended control throughout the lifecycle. 
"The ability to control mealybug over a number of lifecycle stages and its activity on eggs, so you can really reduce that population quite significantly – that's a really good benefit for Trivor as a product," Richard said. 
"The trial was in an area where we have had hotspots in the past and the level of control was pretty impressive. Where Trivor was applied, we did not see the numbers and there are the flow-on benefits of not the instances of sooty mould, so it was very good. 
"There was evidence of light brown apple moth in the trial, but they were also controlled early. If you can get things in one hit and know that you have got control of that growth stage and any subsequent growth stages that are getting away, it's a perfect outcome really." 
Bevan Addison, Market Development Manager WA with ADAMA Australia, said another key benefit with Trivor was that its application did not require the addition of a spray oil, which enhanced its ability to be applied with fungicides and other products in the one pass for growers. 
"Growers tell us it can cost $120-$150 per hectare to run over the vineyard, so that's a pretty key saving and it can help the timeliness of other activities," Bevan said. 
Richard said not having to use oil with Trivor held strong appeal compared with a number of other products. 
"It gives us the ability to throw it in with other fungicides, allowing application savings and also without the risk of phytotoxicity of vines early in the season." 
Some of the key fungicides targeting the major diseases of powdery mildew, downy mildew and botrytis in vineyards include Custodia® Forte, Solaris® and Axiom® Plus. 
The ability to combine Trivor with these fungicides is allowing convenient and cost-effective, one pass insect and disease control for growers. 
In further good news for winegrape vipneyards, ADAMA Australia has a strong pipeline of innovative, alternate mode of action products in development, which also were evaluated at the Cowaramup site last season