Barroz
A unique granular formulation for reliable rice stem borer (Dead Heart) control. Barroz has Cartap Hydrochloride 7.5% + Emamectin benzoate 0.25% as its AI.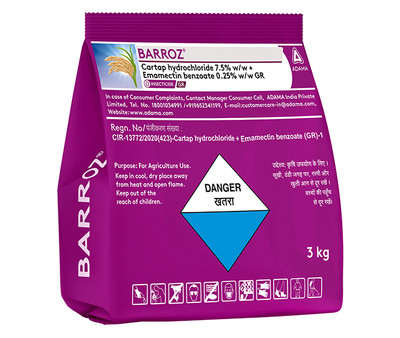 General Info
Crop protection
Barroz is a unique formulation of two superior chemicals, Cartap hydrochloride and Emamectin benzoate.
It has a dual-mode of action which benefits the farmer in gaining good resistance management and better control of Stem Borer (Dead Heart) for a longer period.
It interferes with the neuromuscular process at the nerve-muscle junction causing permanent prevention of muscle contraction leading to the paralysis and death of the insect.
It inhabits muscle contraction causing a continuous flow of chlorine ions in the GABA and H – Glutamate receptors site.
With its excellent phytotonic effect, Barroz helps in the strong and healthy development of tillers too.
Time of Application
* 15 to 25 days after transplantation in South and East India.
* 25 to 35 days after transplantation in North India.
Dosage
For paddy, use 3 Kgs per acre.
Barroz ka Bharosa