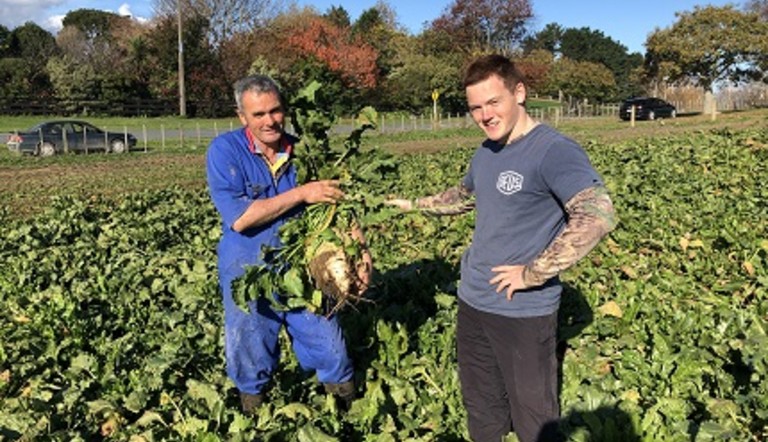 Drought-busting beets excel
ADAMA beet herbicide programme getting results
Weed Control
03 July, 2020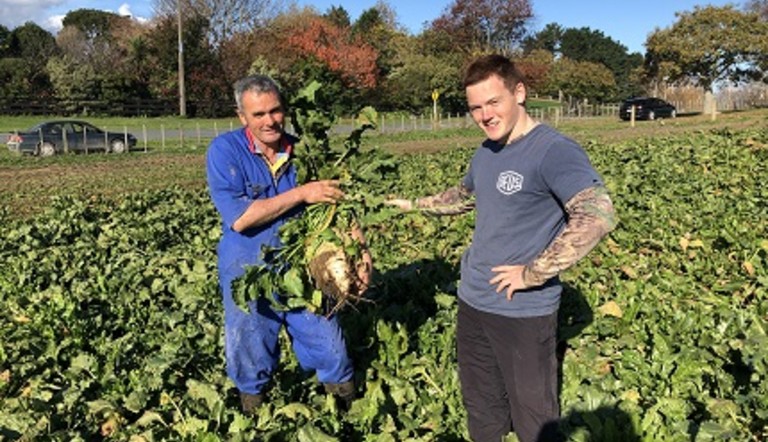 On a warm day in May 2020 on a dryland block in drought-challenged Matamata ADAMA Commercial Manager Doug Speers watched as sugar beet was harvested almost as fast as the trucks could transport it. "The truck was filled in about 15 minutes."
He said the 20 hectare crop from seed supplied by Farmlands had benefited from using the ADAMA beet herbicide programme and also from the farmer's willingness to work with specialised local contractors and advisors. "There's some good expertise around beet crops now."
John Austin Ltd planted the seed and sprayed the crop initially, with Pollock Spraying Services covering the rest of the season, supported by sound advice from Farmlands's TFO Peter Smart.
Experienced Matamata dairy farmers Bruce and Jackie Tiddy saw the potential in beet a few seasons ago impressed by their herd's response to the fodder beet purchased from a local grower. The following season Bruce planted 28 hectares in fodder beet. It was part grazed and part lifted, siloed, chipped and added to maize silage.
This year, he switched to sugar beet with a view to lifting and storing the entire crop, before chipping and adding to maize silage. Sugar beet stores better than fodder beet, has high bulb dry matter, and one third less water than fodder beet.
Specially designed beet programme - flexible and robust
New Zealand crop protection company ADAMA has been at the forefront of supplying the products that support the sometimes difficult-to-establish crops, helping them get away and maximising returns.
Once the canopy is established, beets will hold their own. But, as Doug says, "It's essential to keep on top of weeds until the crop is at canopy closure to maximise yields."
ADAMA NZ's specially designed beet programme is based on a robust pre-emergence spray, with follow-up that controls any subsequent weeds and provides the best possible start for the valuable, high yielding crops; sugar, red and fodder beet and mangolds.
The programme, including Goltix® WG Herbicide, Goltix Uno Herbicide, Ethosat® Herbicide, Rifle®, and now Goltix Gold, has been rigorously tested and refined to complement New Zealand growing conditions and beet varieties. It is also backed by trial results, which show that the programme can significantly improve weed control.
As part of their programme, there is also the unique advantage of Rifle. Thanks to the specially developed SE formulation, Rifle can be applied at cotyledon stage, without damaging the delicate beet plants.
The highly effective programme controls weeds hard-to-kill weeds, including wire weed, willow weed and mallow, which can significantly impact yields.
Doug says farmers using the ADAMA programme were happy with it and got effective control. "But nothing beats 'boots on the ground' for spotting new strikes of weeds. We'd recommend that crops be inspected weekly during the crop establishment phase, the initial five weeks or so."
Paddy from Paddy Contracting Ltd – Bulls, who lifted the Matamata sugar beet, described the crop as one of the cleanest he had seen this season.
Beet literally provided a bright patch in an otherwise grim Waikato late summer landscape. Doug says paddocks of fodder beet and sugar beet stood out as "green oases" compared with the arid surrounding countryside. "I was impressed. The beets have done well in the dry – definitely out-shining a lot of the maize crops. A lot of maize struggled in the dryer than average conditions."
While he says that there is no getting around the fact that growing beets (fodder and sugar) is technical, it has more than paid off for savvy farmers in the drought this season. However, maximising beet crop does take some forward planning. "Ideally, you'd plan at least two years out. That way you know what chemicals have been used in the paddock, the pH, (as beets prefer a higher pH), and what weeds have appeared in that paddock's history. Maize is more forgiving. You need to get beets right."
More information on ADAMA's flexible and robust programme is available here: Goltix WG Herbicide, Goltix Gold, Goltix Uno Herbicide, Ethosat Herbicide, and Rifle.