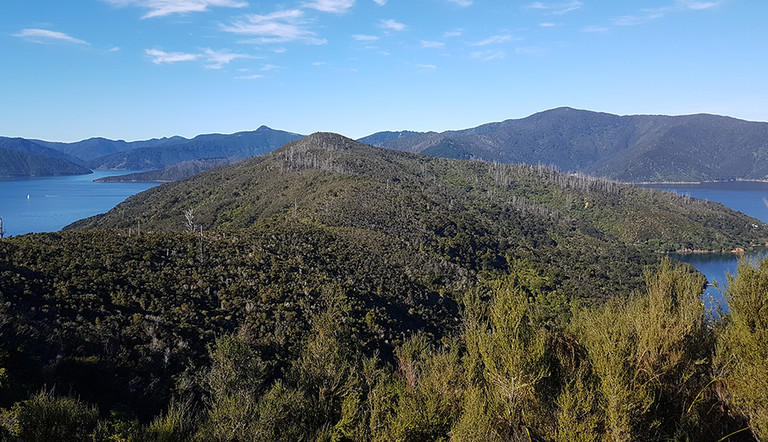 Winning the wilding pine battle one tree at a time
Chemistry, collaboration get traction in wilding pine battle in the Marlborough Sounds
Weed Control
11 November, 2020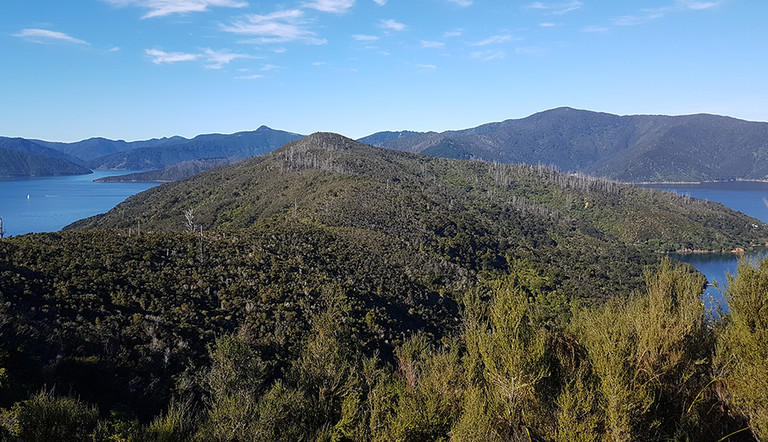 The Marlborough Sounds Restoration Trust is taking a collaborative approach to an ambitious but already encouragingly effective project to eradicate wilding pines from this beautiful and sensitive environment.
The project, one of New Zealand's most successful, began back in 2003 with a meeting of a group of enthusiastic local volunteers, who were determined to restore and protect the natural environment of the Sounds.
Wilding pines have long been a significant problem in the area. They undermine the areas scenic qualities and are overtaking native plants as the dominant species. Thick stands of pines also present a major fire risk and can reduce catchment water flows.
Strong collaboration
Trust Coordinator Siobain Browning says the Trust works closely with stakeholders including DOC and other government agencies, landowners, residents, contractors, and businesses. A "real tapestry of people".
Among them is Nelson-based crop protection company ADAMA New Zealand, which is supplying the chemistry needed for the control programme. ADAMA NZ CEO, David MacGibbon says that the project, which has as its aim "reclaiming the skyline", is close to the company's heart.
He says ADAMA's involvement came through a local connection. "Andrew Macalister, who is a trustee, contacted us and asked about ADAMA Metsulfuron and Polaris® Accelerate (glyphosate). We got talking and it went from there. At the time we were also working with the Abel Tasman Birdsong Trust, so there was a synergy there as well."
Effective control by injecting Metsulfuron into holes drilled into trees
Widely used as a brush weed herbicide, Metsulfuron is typically applied by aerial or ground spray neither of which would have been cost-effective in this instance and which would also have introduced more herbicide into the wider environment. Instead, the herbicide is injected into holes drilled into the trees by skilled contractors, who are aided by aerial photos and GPS. The ultimate result is tree decomposition.
If conditions are right, Metsulfuron works in 2-3 weeks on the branches and pine needles. In 2 or 3 years, all that is left are the dead pine trunks. Metsulfuron is effective on most pines with the exception being pinaster (maritime pine) which requires glyphosate, also supplied by ADAMA.
Andrew Macalister says the Trust finds ADAMA products ideal for the work. "We have trialled a range of brands of metsulfuron previously, and the ADAMA product mixes out very well and delivers reliable results." The Trust's strategic and planned methodology has already produced obvious positive changes in the iconic landscape.
Poisoning, and leaving the trees to die standing helps create nurseries for natives
The project began in Queen Charlotte Sound and the impact of the tree treatment was quickly visible with even passengers travelling from Picton by ferry often pointing out the difference. Siobain says the treated trees soon turn an orangey colour, then a silvery-grey, before they decompose.
Treating the trees, and leaving them to die standing, as opposed to felling, allows the wilding pines to perform a final and useful function by helping create nurseries for the natives re-establishing. The Sounds's rainfall makes regeneration of the native canopy relatively quick. "The greenery coming up underneath is quite astonishing," Siobain says.
However, conservation is intergenerational, and patience and persistence are virtues. "You don't get every pine seedling, every time round." Siobain says. "And it's more challenging when they're not so obvious. Some areas within the targeted area are now getting their 8 to 10 year follow-up."
Pro-active engagement from the community and landowners
Siobain says it has been enormously encouraging that the community and landowners are now being pro-active and actually approaching the Trust for wilding pine eradication assistance. A recent example is the residents of Maraetai Bay, in Tory Channel.
Siobain explains they had an initial enquiry from one person. "The bay is big and it has lots of pine. They just asked; 'Could you please help us?'". The Trust explained the funding commitment and that the whole community would need to be onboard. A Maraetai Bay meeting was soon organised, where the Trust made a presentation and, with the generous support of the Rata Foundation, the area's programme was soon underway.
Growing understanding of the Trust's value and achievement
"When the Trust began, a lot of people thought they were crazy," Siobain says. Now, however, it is a different story, with the vital work gaining momentum and a growing understanding of the Trust's value and what it has achieved so far.
While there may still be a long way to go, The Marlborough Sounds Restoration Trust, and its many partners, are definitely cutting a big wilding pine problem down to size.
You can support the Marlborough Sounds Restauration Trust and their important work by donating here on their Givealittle page.