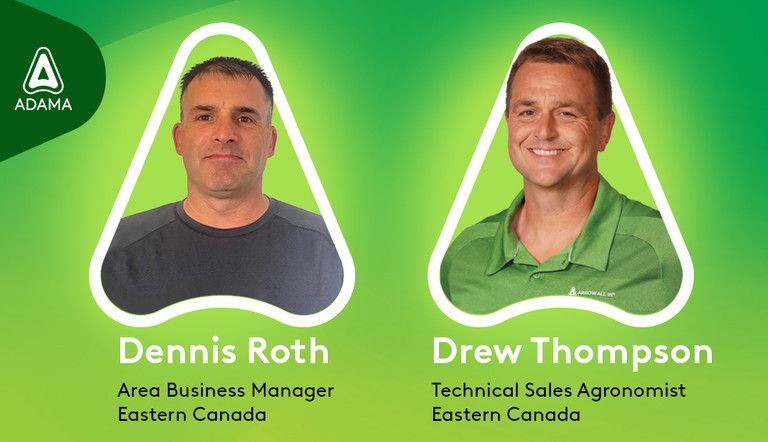 ADAMA Expands Its Presence
New Personnel in Eastern Canada
News
30 June, 2023
6min read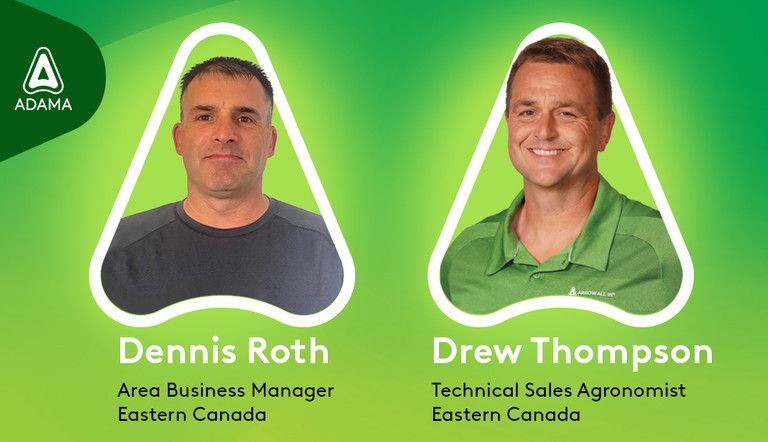 Winnipeg, June 27, 2023 – ADAMA Canada, a leading crop protection company, continues to expand its presence in Eastern Canada to offer more support to its grower customers, retail and distribution networks.
Dennis Roth has joined the company as Area Business Manager position. He will be based in Tavistock, Ontario and report to Karin Younghans, the Regional Sales Manager for Eastern Canada.
"Dennis comes with a breadth of experience from his lifelong devotion to the agriculture industry," said Younghans. "His analytical and practical skills will shine through in this role. ADAMA is thrilled to have Dennis join the team and we know he's eager to connect with retailers and start listening, learning and delivering future growth."
Since graduating from the University of Guelph, Roth has managed a retail location for three years before joining one of the leading IP soybean exporters in Ontario. He continued on to a planning role at Syngenta, where he looked after all soybean seed production across Canada. Prior to ADAMA, Dennis worked with Nexeed, where he sold a line of cleaning equipment to clean and process all types of commodities for the seed and food industry.
Former Area Business Manager Drew Thompson will become the company's full-time Technical Sales Agronomist. He will cover the entire eastern market — Ontario, Quebec and Atlantic Canada — and will be focused on developing the future pipeline of products for ADAMA in both Row Crop and Horticulture as well as technical agronomy support for our retail customers.
Thompson enters his position with over 20 years of experience in agriculture. Before starting at ADAMA in 2021, he worked in areas like agronomy, agro-chemical research and sales after completing a Bachelor of Science in Agriculture followed by a Master of Science from the University of Guelph, where he researched how various agricultural practices impact greenhouse gas emissions.
"Drew is a powerhouse in agronomy. He uses his strong research background to dive deep into the science, which allows him to offer customers solutions that have been proven in the field," said Younghans. "His new role involves developing research and demos, which includes bringing the demo product out pre-commercial. His analytical nature and passion for agronomy and horticulture will prove to be a positive resource to the eastern market."
General Manager Cornie Thiessen said the personnel changes are part of the company's ongoing expansion into eastern Canada. "With Drew as an additional support, we can continue to expand into the eastern market while finding solutions unique to growers there. We're committed to serving our retailers and growers with the best research and technical support we can offer. This is a long-term strategic investment into our Eastern Canadian operations," said Thiessen. 
About ADAMA
ADAMA Canada has been supplying the Canadian agricultural community with crop protection products for more than a decade. We offer an innovative approach to ag and proactively seek opportunities to listen to what our customers, experts and colleagues have to say, taking their inputs and learning from their experience. We combine these insights with our expertise and respond with new products, solutions, services, tailored commercial policies, or information that is relevant to them. We are passionate about agriculture and approach what we do as much more than just a job. Our straightforward, get-it-done attitude helps us stay focused on what we care about most: helping our customers create more sustainable, profitable businesses. ADAMA is the seventh largest crop protection company globally with sales in 100 countries and has the largest portfolio of any company with over 270 active ingredients.