BREVIS®
Uniquely formulated for apples and pears and backed by extensive research, BREVIS provides the consistent, reliable results growers demand for fruitlet thinning.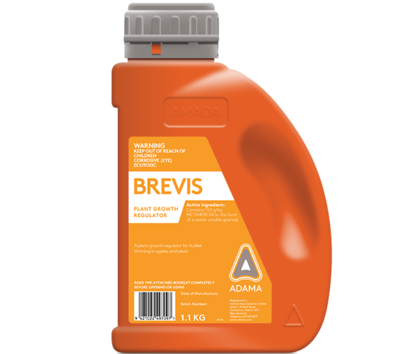 Ton Besseling on weather, temperatures and humidity when thinning apple and pears with BREVIS®

Ton Besseling on fruitlet thinner BREVIS®, kg/ha label rate, split applications and primary thinners

Ton Besseling on ADAMA global research and BreviSmart, the new prediction tool for apple thinning

Ton Besseling on BREVIS® and ADAMA's groundbreaking research into apple and pear thinning

Ton Besseling on BREVIS® and how it revolutionises apple and pear thinning
Revolutionising Apple and Pear Thinning
BREVIS is a new and innovative secondary fruit thinner especially formulated for apples and pears. Its unique mode of action radically changes the way apples and pears are thinned, giving growers the means to thin more reliably and consistently, year after year. With much less temperature dependency and a wide window of application, BREVIS solves the problems growers face with traditional chemical thinners.
Global and New Zealand Research
ADAMA has undertaken extensive research globally and in New Zealand with over 800 trials with BREVIS to date. BREVIS is registered in over 27 countries and more registrations are being added each year.
NEW - Find the optimum time to apply BREVIS with BreviSmart
Timing is everything when it comes to apple thinning. BreviSmart is a web-based tool used to predict the optimum timing to apply BREVIS. It factors in key weather parameters as well as fruitlet size and variety, delivering critical insights on the best times to spray. BreviSmart is available for free. For more information on BreviSmart click here.
General Info
BREVIS's Advantages at a Glance
Less temperature dependent
Wide window of application (8–14 mm size fruitlets)
User-friendly formulation, additional surfactants not required
Rapid foliar absorption, rainfast within 2 hours of application
Quick access to orchards - re-entry after 3 days
Non-toxic to beneficial insects
No negative effect on shoot growth or return bloom
Beginning of fruit drop 7-10 days after application
Suitable for use on all apple and pear varieties including those that are difficult to thin