BREVISMART® - NEW
Timing is everything when it comes to apple thinning. BreviSmart is a web-based tool used to predict the optimum timing to apply fruitlet thinner BREVIS.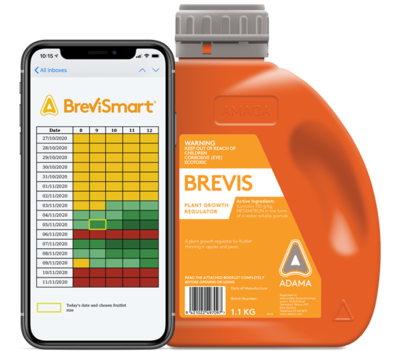 BreviSmart - Your apple thinning support tool for the optimum timing of applying BREVIS

Ton Besseling on prediction tool BreviSmart for apple thinning with BREVIS®
Timing is Everything
When it comes to apple thinning, timing is crucial – apply too early, or too late, and the results can be less than ideal.
That's why ADAMA developed BreviSmart to help you optimise the timing of BREVIS applications. Based upon extensive local and international trials, BreviSmart is the next step in optimising thinning results.
Why BREVISMART?
BreviSmart is a support tool to maximise the efficacy of BREVIS, by predicting the optimal application window. Simply said, the aim is to get the best thinning result possible with BREVIS.
Our research shows that out of the many factors affecting thinning there are four key variables that impact the result of BREVIS applications – solar radiation, temperature, fruitlet size and variety.
Utilising those four variables ADAMA designed a prediction model for BREVIS, engaged IBM and its Weather Company and BreviSmart was born. The Weather Company delivers one of the most accurate weather forecasts with an extensive network of weather stations globally and locally.
How Does It Work?
The BreviSmart model calculates the expected efficacy of BREVIS for the next 5 days and shows when to apply BREVIS for optimal results.
BreviSmart uses actual weather data (solar radiation and temperature) from 5 days prior to the calculation date and forecasts weather for the coming five days. The weather data comes from local weather stations closest to the orchard. The model then factors in variety (e.g. easy or medium to thin) and fruitlet size and runs a calculation to predict the thinning conditions for the next five days (including the day of calculation).
A report is then generated, using a traffic light system (yellow for reduced thinning conditions, green for good thinning conditions, red for strong thinning conditions). Reports are generated daily during the thinning season, allowing growers to easily see the best time to apply and plan accordingly.
Please note: The predictions generated by BreviSmart are designed to support you and the final recommendations. Please note that these predictions are one of several key factors you need to take into account before building any recommendations.
General Info
Get BreviSmart for Free
This invaluable prediction tool is available for free to apple growers. Simply contact one of our Commercial Managers directly or fill out the form below to register your interest in BreviSmart.
For Hawke's Bay, Waikato
Contact Doug Speers
M: 021 424 179
E: doug.speers@adama.com
For Nelson, Tasman, Marlborough, Otago, Canterbury
Contact Damian MacKenzie
M: 021 424 964
E: damian.mackenzie@adama.com
For Gisborne, Wairarapa
Contact Bryce Simpson
M: 021 424 815
E: bryce.simpson@adama.com