BOLIDE®
BOLIDE is your all-rounder DMI fungicide for wheat and barley, with outstanding Septoria and Ramularia control.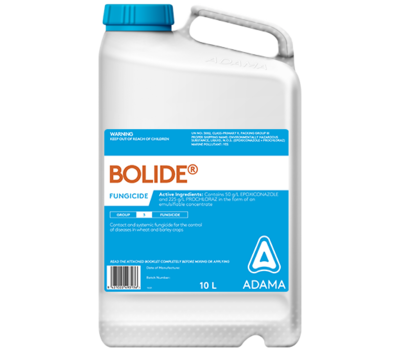 Cover all your bases with BOLIDE
BOLIDE is a broad spectrum, systemic fungicide featuring an innovative combination of two powerful GROUP 3 DMI fungicides – epoxiconazole and prochloraz.  Its unique mixture gives you a broader spectrum of control against key diseases than other DMIs on the market. What is more, BOLIDE provides outstanding Septoria and Ramularia control, especially when tank-mixed with multi-site protectant PHOENIX Fungicide. With BOLIDE you've really got infection protection covered!
BOLIDE combines protectant, curative and eradicative properties, making it an excellent performer for other diseases such as rust, powdery mildew and ear disease complex. It is taken up via the stem and foliage and is translocated upwards and outwards to provide some protection to new growth. 
Septoria
When to apply? At T1!
The ideal timing for BOLIDE is T1, when leaf 3 emerges. 
Application at T3 is also recommended, because BOLIDE provides robust control of ear disease complex, including fusarium and late season rust.
Ramularia
When to apply? At T2!
BOLIDE is an ideal option for applications at both T1 and T2. However, the most important time to apply BOLIDE for Ramularia control is T2 to protect leaves 2 and 3.