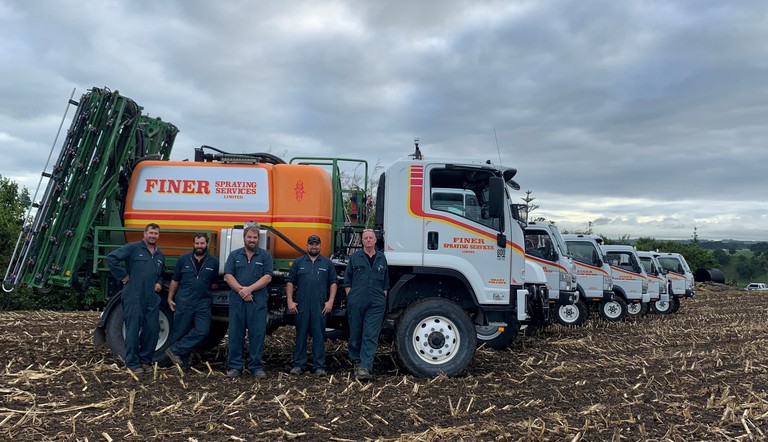 Mavrik® gets thumbs up from spray contractors
Breakthrough ADAMA beet protection product also takes care of staff
Pest Control
21 March, 2022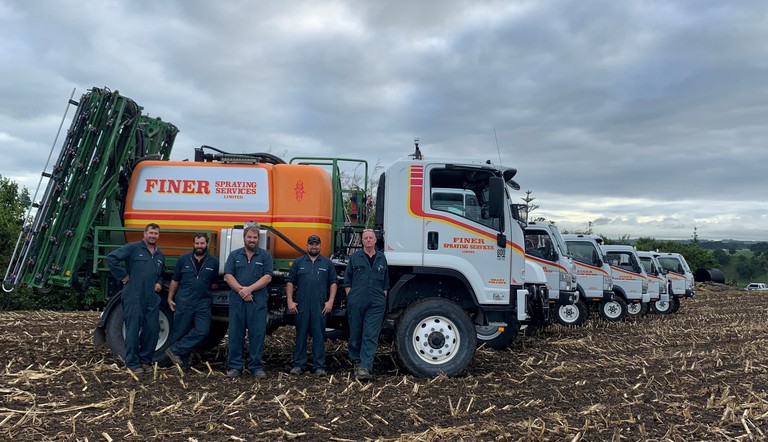 Over the years many promising new-to-market, and ultimately highly effective crop protection products, have sometimes taken a while to bed-in. That's understandable, according to ADAMA New Zealand Commercial Manager Doug Speers, who acknowledges the stakes are high and says the farming sector tends to err on the side of caution. However, one product making almost instant inroads is Mavrik Aquaflow Insecticide (Mavrik).
Launched to the beet market by ADAMA in 2021, Mavrik offers effective control of major beet pests Nysius and cutworm while having low toxicity to beneficial insects foraging in beets or surrounding crops. Importantly, it is safer for applicators too.
With health and safety increasingly strong drivers for spray contractors, "soft" approaches to crop protection have been rapidly gaining ground at the expense of organophosphates. Grant Pollock says from the start, he and former business partner Jim Finer at South Taranaki's Finer Spraying Services decided to take a firm line when it came to protecting staff from the hazards of harsh toxins.
"The products might sometimes cost a little more, but when we explain to clients that they work, why we chose them, and that it's better for the environment too, we've had no resistance."
"We're very focussed on staff here, and that includes considering the products they have to handle."
Using Mavrik a "no brainer"
Grant, who specified Mavrik for 250 ha of beet last season, says using it was a "no brainer". "One of my reasons was applicator safety. But it's also one of the few sprays that will control Nysius and cutworm and leave the friendlies. It's good to be using it and knowing we'll not be hitting those beneficials."
Grant acknowledges that beet can be a fickle crop and correct management takes "a chunk of time." He says that is where his experience and strong relationships pay off. "Fortunately, I've been in this game for a long time now, and I work alongside merchants and also have a good relationship with people like Doug (ADAMA's Doug Speers)."
He says his region has seen some "phenomenal" beet crops. "50 tonne easily, if it's on good country and it's well looked after. It's potentially huge!"
In South Taranaki. Grant says the crop is usually grazed rather than lifted and that requires careful transitioning. But it also provides the flexibility to take it through later in the season something other crops don't provide.
Well-respected in the industry, Grant began working for Finer Spraying Services in 1986. The company itself was founded in 1955, to service the local dairy sector. By 2005 he was a partner in the company and in 2016 bought Jim Finer out. Jim is still actively involved and helps out, particularly through the busy months September through till March.
Now running 7 trucks with spray rigs, the business has flourished with Grant saying their single biggest challenge is getting more staff, as the service expands. "I've got a great team, but business just keeps growing!"
Grant is passionate about the industry and keeps up with new technology as well as meticulously running his existing rigs. "The industry is transforming and evolving. You sometimes initially think, what would I need that technology for? Then you have it in one truck and it works so well, you put it in them all."
"We pride ourselves on top gear and top staff. You only get out of this business what you put into it."
Grant's brother, Matamata-based Charlie Pollock followed Grant into the industry after working as a structural engineer, then for two decades on dairy farms. He now co-owns busy Pollock Spraying Services with wife Vicki.
Charlie says he too chose Mavrik for beet crops. "It was the right thing to do for our clients and our staff."
Definite trend away from traditional "hard" crop protection products
Charlie says he has noticed a definite trend away from traditional "hard" crop protection products. "People are steering away from the old-style chemistry for health reasons. And Mavrik, it only kills the target insects – it's not just about wiping everything out."
Like Grant, Charlie says beet offers high returns but is challenging to grow. And he should know.
Among Pollock Spraying Services' clients are leading local dairy farmers Bruce and Jacquie Tiddy. The Tiddys have produced bumper crops of sugar beet, pushing 30 tonnes of DM/ha off around 22 ha with 15.2 ME.
At the time, Charlie said it was the cleanest crop he's ever seen, something he attributes to Bruce's hard work and vigilance, the oversight of their technical specialist, and Doug from ADAMA. "It was a real team effort with all four of us keeping an eye on it!"
Mavrik is the latest addition to ADAMA's powerful, safe, and flexible beet protection toolbox which has grown in response to specialist technical and farmer feedback. Now providing a "whole crop approach" it is a suite of globally sourced and locally tried and tested products.
Strong yet gentle Nysius and cutworm control with Mavrik
Mavrik has as its active tau-fluvalinate. Unlike organophosphates (OPs) or other synthetic pyrethroids (SPs) Mavrik offers strong control of major beet pests Nysius and cutworm while having low toxicity to beneficial insects foraging in beets or surrounding crops. Mavrik affects the nervous system of Nysius and cutworm after direct contact or ingestion. While these pests are overcome, the impact on beneficial insects including ground beetles, bees and wasps, lacewings, hoverflies and ladybirds is minimal.
If uncontrolled, the economic impact of Nysius and cutworm can be significant for farmers investing in high value beet crops.
Nysius huttoni (also known as wheat bug) sucks the phloem from the shoots and young stems of emerging beet, leaving them weakened and prone to wind damage. The pest can cause losses well above 50% in the worst cases. Particularly common in warm, dry areas Nysius is a New Zealand native and is widely distributed in the North and South Islands.
Young cutworm Agrotis ipsilon aneituma will forage on beet leaves while the larger more destructive caterpillars can chew through seedlings, taking them out at ground level with devastating results.
ADAMA recommends that Mavrik be applied at the first sign of the two pests' presence, ensuring good coverage of plants and surrounding soil. Mavrik is crop safe when applied to beet seedlings at cotyledon stage in a tank-mixture with ADAMA beet herbicides and other commonly used pesticides.
Comprehensive beet tool box
ADAMA's beet herbicides complementing Mavrik are based around the use of a robust pre-emergence spray with a follow up to control any subsequent weeds. Spearheading the programme is Goltix® Gold with its proven efficacy in particularly hard-to-control beet weeds including fathen and wireweed. Other compatible herbicide products in the beet programme include: ToreroTM, Ethosat®, and Rifle®. Foliar fungicide Custodia® rounds off the beet programme. Custodia not only supports greener, healthier and more vigorous leaves in beet, but offers greater grazing flexibility.
Doug says ADAMA hopes to have Mavrik approved for forage brassica crops in time for the new season. "We believe it will deliver the same significant advantages in forage brassicas that it has in beet crops. This will give growers a product that is in line with the goal of tackling serious threats to productivity while protecting people, the environment and beneficial insects."
Taking care of the bad guys. And the good guys.
MAVRIK provides powerful, yet gentle control of Nysius and cutworm in beet