Aceta Star® 46 EC
Aceta Star® 46 EC is a super mixture with fast-acting, contact & systemic and effective against a wide range of field pests and insects, especially cocoa mirids (...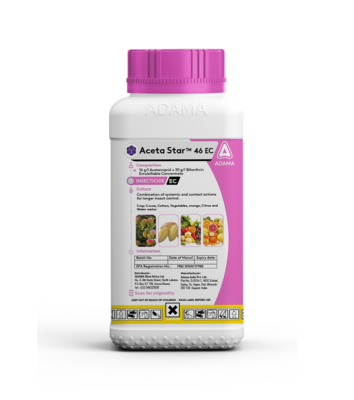 Aceta Star® 46 EC
Premium solution designed for farmer's benefit.
The Magic formula of Aceta Star®46 EC
Discover the working magic of a premium solution trusted by millions of farmers worldwide. Apply Aceta Star and say goodbye to field pest and wide range of insects for a bountiful harvest with a smile and wide-open arms; an experience of farming that comes with joy of satisfaction- knowing that pests & insect infestations are under total control.
Join the league of successful farmers who rely on Aceta Star for unbeatable insect control and unmatched crop protection for abundant yield.
General Info
Aceta Star® 46 EC 
Aceta Star contains Acetamiprid, a unique insecticide with translaminar activity and with contact and stomach action which exhibits systemic properties. It can be absorbed by plant tissues and transported throughout the plant. Bifenthrin on the other hand is a synthetic pyrethroid with contact and stomach action with its effect on non-target fauna and the environment being transient only. The blend of Acetamiprid and Bifenthrin delivers exceptional results for farmers complete satisfaction.
Field pests and insects undermine farmers hard work and investment. Take charge of your field and crop's destiny with Aceta Star for bountiful yield by unlocking the true potential of your field with Aceta Star's magic formula.
Why Choose Aceta Star? 
Proven Effectiveness: Backed by extensive research and field trials, Aceta Star has demonstrated exceptional insect control results, earning the trust of farmers worldwide.
Long-lasting Defence: With a residual effect that lingers, Aceta Star offers continuous protection, leaving no room for pests to resurge.
Environmentally Friendly: Rest easy knowing that Aceta Star is developed with eco-consciousness in mind, safeguarding both your crops and the environment.
Easy Application: Effortlessly apply Aceta Star with our user-friendly instructions, ensuring seamless integration into your cocoa field's pest management routine.
Quality Yields Quantity
Optimize yield with Aceta Star. A high-quality insecticide for cocoa farmers to reap more benefit from harvest and handwork.
Try it now for more benefits!
Safe for crop
Quick Knockdown effect
Enhance cocoa bean quality
Two mode action
Application Advice
What crops are protected by Aceta Star?
Aceta Star can be used on below crops per recommended dosage:
Cocoa
Cotton
Legumes
Vegetables
Fruit Trees
Melon
What pest & insects does Aceta Star control?
ACETA STAR controls and kills below insects and gives the farmer total relief for a thriving field
Cocoa mirids (capsids)
Aphids
Leaf miners
White flies
Borer
Caterpillar
Green bug
Plusia looper
Defoliators
Diamond back moth/larvae
Wide range of field pests & insects
What is the application rate (Aceta Star) for Cocoa and Other crops?
Cocoa
Measure 120ml of Aceta Star and mix with 11L of clean water in tank mixer.
0.6L or 600ml per hectare
Other Crops (Vegetables, Legumes, Cotton, Mango, Melon etc)
Recommended mixing steps
Half fill the spray tank with clean water.
Empty the required quantity of the product into the spray tank. 
Top up the water to the recommended level and agitate gently for thorough and even mixture. 
Safety Tips & Cautions ⚠️
Handle plant protection products with care
READ product label before use
WEAR suitable protective clothing - Gloves, Goggles, Respirators and Wellington boots at all times
WASH hands thoroughly after handling
DO NOT eat, drink or smoke when using product
Contact us - For Nearest Sales point & Technical Assistance !
Talk to us! We are ready to listen...