SORADUO™
Advanced disease protection powered by Asorbital® Formulation Technology. SORADUO™ provides proven fusarium protection in wheat and barley.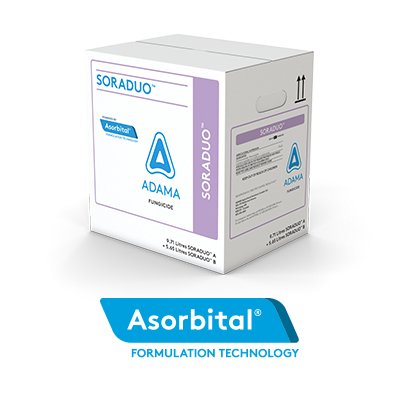 Key Benefits:
Proven fusarium protection in wheat and barley
Asorbital® Formulation Technology helps to deliver uniform coverage for consistent protection
Multiple modes of action for resistance management
Simple choice without the complication of grower programming
Application flexibility
Performance over a wide range of conditions
General Info
HOW IT WORKS
SORADUO is a combination of two triazole fungicides one that features Asorbital® Formulation Technology for broad-spectrum systemic activity plus long lasting foliar protection.
APPLICATION RATES AND ACRES TREATED
SORADUO A @ 162 ml/ac + SORADUO B @ 94 ml/ac
60 ac/case
PACKAGING
Co-pack: 1 × 9.71 L SORADUO A + 1 × 5.65 L SORADUO B
WATER VOLUME
Ground: 40 – 80 L/ac (10 – 20 US gal/ac)
Aerial: 10 L/ac (3 US gal/ac)
RAINFASTNESS
Avoid applying when rain is forecast.
Key Crops and Application Rates
Cereals - Wheat (spring, durum & winter), Barley
Disease: For Suppression of Fusarium Head Blight (Fusarium spp.)
Rate: SORADUO A @ 162 ml/ac + SORADUO B @ 94 ml/ac
Timing
Wheat: 75% head emergence – 50% main stem flower
Barley: 70 – 100% head emergence to 3 days after full head emergence
Maximum one application per year.
Always read and follow label directions.