QUASAR®
Proven one-pass weed control, with multiple-flush control of shallow germinating weeds like green foxtail and wild mustard in field peas, dry beans and soybeans.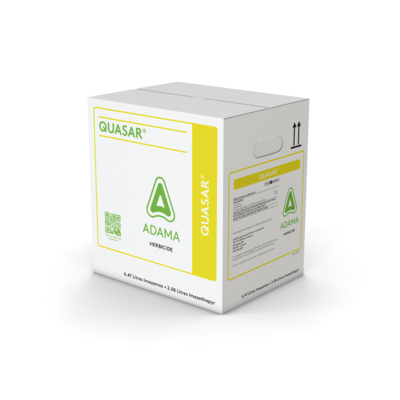 KEY BENEFITS:
Can be used in all soil zones in Western Canada
Lasting activity helping to control shallow germinating flushing weeds
Convenient 80 acre package 
Can be used in peas, soybeans and dry beans
Liquid formulation allowing for easy mixing
General Info
HOW IT WORKS
The 2 active ingredients in QUASAR® are readily absorbed through both leaf and root uptake and are translocated in the plant to inhibit amino acid production and cell division. Plant growth is inhibited, and a few days after application, chlorosis and terminal bud injury become evident. Leaves and stems become yellow and purple, and root growth may be inhibited.
PACKAGING
Case: DAVAI® 80 SL: 1 × 6.47 L jug;
PHANTOM® 240 SL: 1 × 2.08 L jug
APPLICATION RATES AND ACRES TREATED
Rate: DAVAI® 80 SL: 80 ml/ac; PHANTOM® 240 SL: 26 ml/ac
Acres Treated: 80 ac/case
WATER VOLUME
Ground: 40 L/ac (10 US gal/ac)
Aerial: Do not apply.
RAINFASTNESS
Key Crops and Application Rates
Field Peas, Soybeans & Dry Beans
Apply the QUASAR® co pack at 80 ml/ac DAVAI® 80 SL + 26 ml/ac PHANTOM® 240 SL for peas, soybeans, and dry beans. For water volume, use 40 L/ac or 10 US gal/ac.
Always read and follow label directions.