SQUADRON® II
This broad-spectrum herbicide is registered for grassy and broadleaf weed control in a wide range of crops, most notably lentils, peas, chickpeas and potatoes. It can...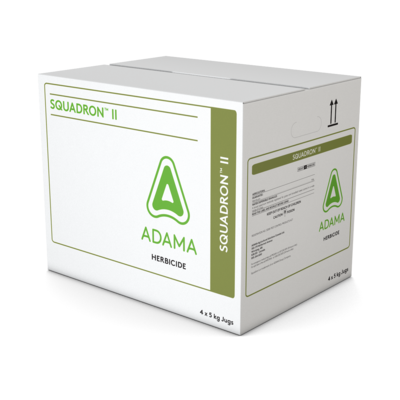 KEY BENEFITS:
Enhanced metribuzin formulation
Increased solubility
Less foaming
Better compatibility with other herbicides, especially Roundup WeatherMAX®
General Info
HOW IT WORKS
Metribuzin inhibits the photosynthesis of grassy and broadleaf weeds. Used pre-emergent, susceptible weeds and crop seedlings emerge through treated soil, but 2 – 5 days later the weeds show chlorosis and necrosis. Plants treated post-emergence show chlorosis and necrosis between leaf veins, followed by wilting and death.
PACKAGING
APPLICATION RATES AND ACRES TREATED
Pre-seed:
Rate: 150 – 190 g/ac
Acres Treated: 25 – 30 ac/bottle
In-crop Broad Spectrum:
Rate: 80 – 300 g/ac
Acres Treated: 15 – 65 ac/bottle
RAINFASTNESS
APPLICATION TIMING AND CROP STAGING:
| Crop | Crop Stage | Application Method |
| --- | --- | --- |
| Barley | 2 – 5 leaf | Post-emergence |
| Wheat | 2 – 5 leaf | Post-emergence |
| Peas | Pea vines must be less than 6 inches long at time of post-emergent application. | Post-emergence or pre-seed incorporated (spring and fall) |
| Chickpeas | 1 – 3 above ground nodes | Post-emergence |
| Lentils | Vines must be less than 6 inches long or in 3 – 5 node stage. | Post-emergence or pre-seed incorporation (fall) |
| Soybeans | Before seeding | Pre-seed incorporation (spring) |
| Potatoes | First use on a potato variety should be limited to a small test area to ensure varietal tolerance. | Post-emergence or pre-seed incorporated. Refer to the label for sprinkler irrigation application. |
SOIL TYPES AND RESTRICTIONS
The recommended use rates of SQUADRON® II are dependent upon soil texture and the organic matter content of the soil being treated: coarse, medium and fine. The following chart outlines the soil textures included in each of the soil texture groupings:
| Coarse | Medium | Fine |
| --- | --- | --- |
| Loamy sand, Sandy loam | Loam, Silt loam, Silt, Sandy clay loam, Sandy clay | Silty clay loam, Silty clay, Clay loam, Clay |
On variable soils with coarse sandy areas, some crop injury may occur on the sandy areas if the rate used is for the finer soil type.
Sandy loam and silty clay loam soils are transitional soils and may be classified as medium-textured soils in some regions.
Do not use this product on muck soils. If SQUADRON® II is applied to muck soils, subsequent crops may be injured.
Do not use on coarse soils with less than 2% organic matter.
CROP ROTATIONS
Rotational crops such as non-triazine-tolerant canola (rapeseed) are sensitive to SQUADRON® II and may be injured if seeded in soil treated with SQUADRON® II during the year of application or the following crop year. Fall seeded or cover crops such as wheat, oats and rye may be injured when seeded within the same season as the application of SQUADRON® II.
Always read and follow label directions.