SQUADRON® II
A broad spectrum herbicide registered for grassy and broadleaf weed control in a wide range of crops, most notably lentils, peas, chickpeas, faba beans, soybeans and...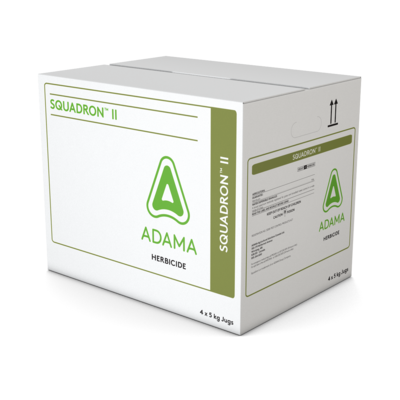 KEY BENEFITS:
Enhanced metribuzin formulation
Increased solubility
Less foaming
Better compatibility with other herbicides, especially Roundup WeatherMAX®
General Info
HOW IT WORKS
Metribuzin inhibits the photosynthesis of grassy and broadleaf weeds. Used pre-emergent, susceptible weeds and crop seedlings emerge through treated soil, but 2 – 5 days later the weeds show chlorosis and necrosis. Plants treated post-emergence show chlorosis and necrosis between leaf veins, followed by wilting and death.
PACKAGING
APPLICATION RATES AND ACRES TREATED
Pre-seed:
Rate: 150 – 190 g/ac
Acres Treated: 25 – 30 ac/bottle
In-crop Broad Spectrum:
Rate: 80 – 300 g/ac
Acres Treated: 15 – 65 ac/bottle
RAINFASTNESS