SQUADRON® II
This broad-spectrum herbicide is registered for grassy and broadleaf weed control in a wide range of crops, most notably soybeans and potatoes.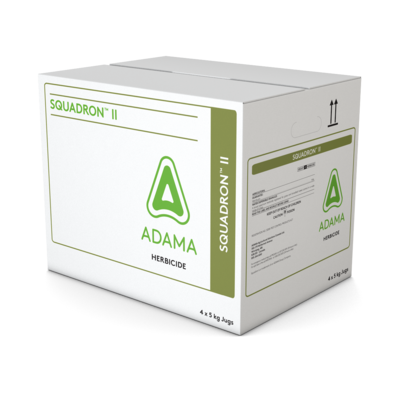 BENEFITS OF IMPROVED FORMULATION:
Enhanced effectiveness due to increased solubility
Easier to use as it is less foamy than Squadron
Stays in solution after 24 hours
Better compatibility with other herbicides, especially Roundup WeatherMAX®
General Info
HOW IT WORKS
Metribuzin inhibits the photosynthesis of grassy and broadleaf weeds. Used pre-emergent, susceptible weeds and crop seedlings emerge through treated soil, but 2 – 5 days later the weeds show chlorosis and necrosis. Plants treated post-emergent show chlorosis and necrosis between leaf veins, followed by wilting and death.
PACKAGING
APPLICATION RATES & ACRES TREATED
Rate: Please refer to the label for application rates as these vary based on crop,soil type and application methods.
Acres Treated: 15 – 60 acres/jug
RAINFASTNESS
6 hours after foliar application