HOTSHOT®
A Powerful glyphosate tank-mix partner for pre-seed burn-off that controls a wide range of annual broadleaf weeds including Group 2 and 9 resistant kochia, volunteer...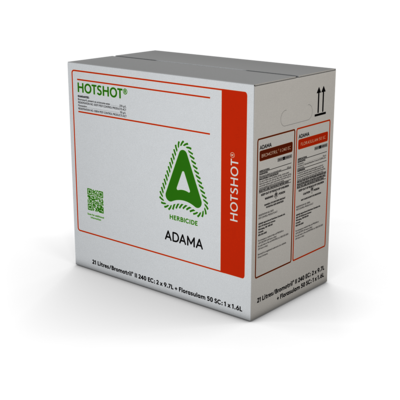 General Info
HOW IT WORKS
The combination of bromoxynil and florasulam with glyphosate creates a powerful resistance management tool for pre-seed burn-off. Bromoxynil provides contact herbicide activity and controls Group 2 and Group 9 (glyphosate) resistant biotypes while florasulam, an ALS inhibitor, adds additional control of weeds like hempnettle and narrow-leaved hawk's beard.
PACKAGING
Case: Bromoxynil: 2 × 9.7 L jugs; Florasulam: 1 × 1.6 L jug
APPLICATION RATES AND ACRES TREATED
Rate: Bromoxynil: 400 ml/ac; Florasulam: 32 ml/ac
Acres Treated: 50 ac/case
WATER VOLUME
Ground: 20 – 40 L/ac (5 – 10 US gal/ac)
Aerial: Do not apply.
RAINFASTNESS