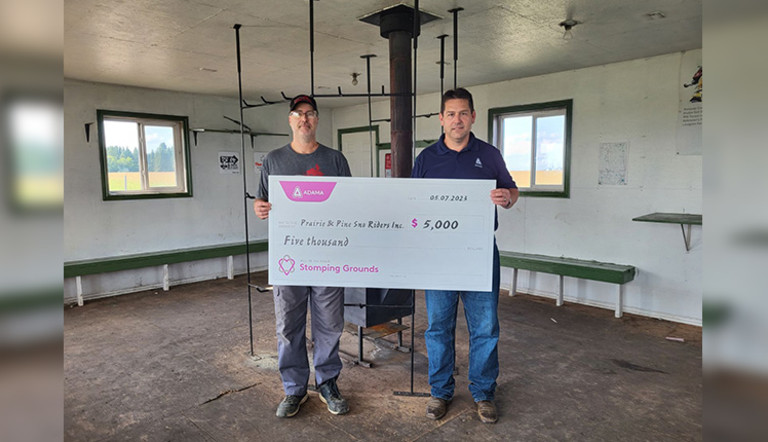 ADAMA Canada Donates $5,000 To Keep Miracle Lake Snowmobilers Warm and Cozy
Norquay, SK, 2023 – ADAMA Canada announced today a donation of $5,000 to Prairie & Pine Sno Riders to improve its warm-up shelter. This donation is part of All In On Your Stomping Grounds, ADAMA's new initiative to help fund community projects across the country.


News
November 01, 2023
6min read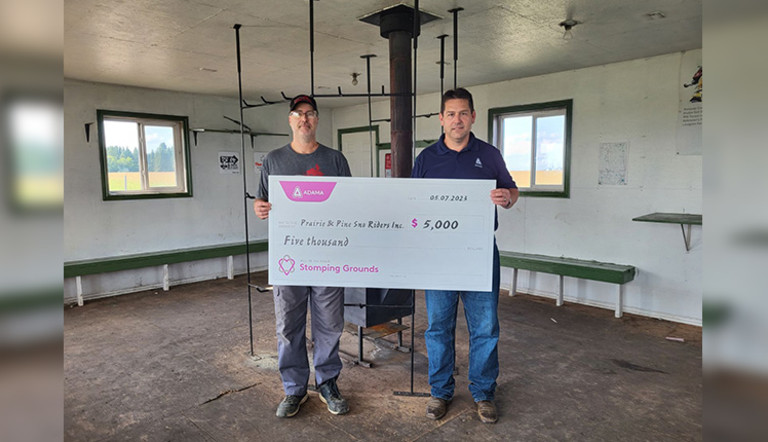 The money will go towards repairing the warm-up shelter on the shore of Miracle Lake, which is 285 kilometers northeast of Regina. The lake receives visitors year-round, with people barbequing and riding ATVs in the summer then snowmobiling and ice fishing in the winter. The warm-up shelter serves as a safeguard from extreme weather conditions, as well as a community gathering spot to socialize with like-minded outdoorspeople. Due to years of wear and tear, the roof needs reshingling, the window frames need replacing, the interior needs a paint job and the building's foundation needs repair.
"Miracle Lake provides a beautiful outdoor experience for friends, families, community members and visitors, so we want to do what we can to keep it in top shape," said Brice Dahlin, Prairie & Pine Sno Riders Club. "Thanks to ADAMA's donation, we'll be able to start repairing the warm-up shelter, which will ensure visitors are safe from storms and can continue making lifelong memories at the lake."
"Community initiatives take many shapes, what they all have in common is bringing people together doing things they love to do," said Neil Abrahamson, Area Business Manager for ADAMA Canada. "and we want to be part of initiatives that continue making  memories happen."
About ADAMA 
ADAMA Canada has been supplying the Canadian agricultural community with crop protection products for more than a decade. We offer an innovative approach to ag and proactively seek opportunities to listen to what our customers, experts and colleagues have to say, taking their inputs and learning from their experience. We combine these insights with our expertise and respond with new products, solutions, services, tailored commercial policies, or information that is relevant to them. We are passionate about agriculture and approach what we do as much more than just a job. Our straightforward, get-it-done attitude helps us stay focused on what we care about most: helping our customers create more sustainable, profitable businesses. ADAMA is the seventh largest crop protection company globally with sales in 100 countries and has the largest portfolio of any company with over 270 active ingredients.