ZIVATA™
An innovation in insect control giving you the same trusted results in a more sustainable formulation with a better user experience.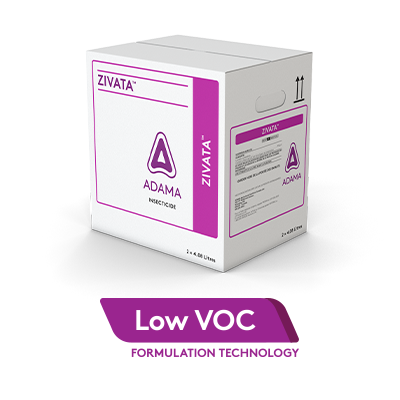 Key Benefits:
Advanced formulation using sustainable plant-based materials
Low Volatile Organic Compound (VOC) with low odour formulation
Improved user experience and flexibility of use around odour-sensitive areas
Trusted and proven active ingredient
Broad range of crops, pests and use patterns.
General Info
Talk to your full service input retailer and to your crop buyers to make an informed decision about if and when to apply this product
Note: The following crops are no longer registered crops:
Pasture
Sunflowers
Leaf and head lettuce
Green house lettuce
Bulb vegetables (Crop group 3: Garlic; Elephant Garlic; Leek; Dry Bulb; Green and Welch Onion; Shallots)
Timothy grown from hay
HOW IT WORKS
ZIVATA™ is a synthetic pyrethroid insecticide formulated with an improved, plant-based solvent that offers fast-acting stomach and contact effects against a broad spectrum of insect pests. This renewably sourced formulation has low volatile organic properties and improves the user experience with a reduced drift potential and product volatility.
APPLICATION RATES & ACRES TREATED
Rate: 17 – 94 ml/ac; standard rate for most pests: 34 ml/ac
 Acres Treated: 45 – 240 ac/jug; standard rate: 120 ac/jug
PACKAGING
WATER VOLUME
Ground: 40 – 80 L/ac (10 – 20 US gal/ac)
Aerial: 4 – 16 L/ac (1 – 4 US gal/ac)
RAINFASTNESS