LADDER ALL IN®
LADDER ALL IN® provides the same great post-emergent systemic control in spring and durum wheat as LADDER® 240 EC but with one big difference: the surfactant comes pre-...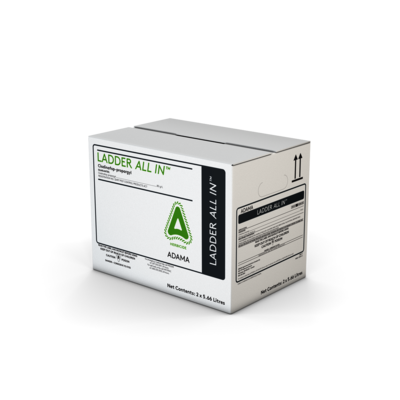 General Info
HOW IT WORKS
LADDER ALL IN® is absorbed by the leaves and is rapidly translocated to the growing points of leaves and stems. Yellowing in 1 – 3 weeks. Complete control in 3 – 5 weeks after application.
PACKAGING
Case: 2 × 5.66 L jugs
Pallet: 5 × 90.6 L drums
APPLICATION RATES AND ACRES TREATED
Rate: 283 – 356 ml/ac 
Acres Treated: 15 – 20 ac/jug; 255 – 320 ac/drum
WATER VOLUME
Ground: 20 – 40 L/ac (5 – 10 US gal/ac)
Aerial: 12 L/ac (3 US gal/ac)
RAINFASTNESS
Key Crops and Application Rates
Wheat (durum, spring)
Apply 700 mL/ha of LADDER ALL-IN for registered grassy weeds, except Persian Darnel which requires 880 mL/ha. For water volume, add a minimum of 50 to 100 L/ha. For aerial, add a minimum of 30 L/ha. See label for specific rates, application timing and complete lists of crops that LADDER ALL-IN can be used on and the weeds that it controls. Always read and follow label directions.
NOTE: LADDER ALL-IN contains a built-in adjuvant system. Do not add any adjuvant to the LADDER ALL-IN mixture.