DAVAI A PLUS™
DAVAI® 80 SL conveniently packaged with ARROW ALL IN® the leading grass control product in pulses.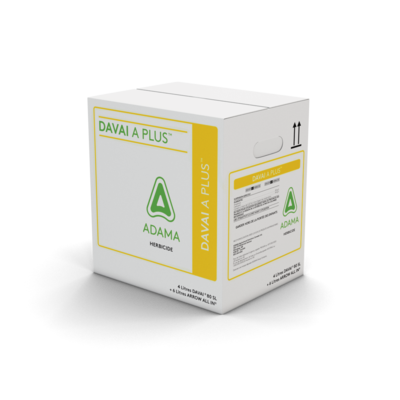 Key Benefits:
Another choice for Canadian pulse growers!
Freedom to use on imidazolinone tolerant lentils, field peas, soybeans and dry beans
Two modes of action for resistance management
Many options for rotational crops including canola, pulses, and cereals
Built-in adjuvant, for convenience
Reliable control of a wide spectrum of tough grasses and targeted broadleaf weeds
No complicated grower programming
General Info
APPLICATION RATES AND ACRES TREATED
Rate: ARROW ALL IN®: 150 ml/ac; DAVAI® 80 SL: 100 ml/ac
Acres Treated: 40 ac/case
PACKAGING
Case: DAVAI® 80 SL: 4 L jug; ARROW ALL IN®: 6 L jug
WATER VOLUME
Ground: 40 L/ac (10 US gal/ac)
Aerial: Do not apply.
RAINFASTNESS
Crop Staging
| Crop | Staging |
| --- | --- |
| Dry beans, Soybeans | Emergence to 3 expanded trifoliate leaves |
| Field peas | 1-6 true leaf |
| Imidazolinone-tolerant lentils | 1-9 node |
ADJVANT RATE
No adjuvant required.
CROP ROTATIONS
Barley, Canary seed, Canola, Chickpeas, Corn, Field peas, Flax, Lentils, Oats,
Soybeans, Clearfield® sunflowers, Wheat (spring, durum)
There are several factors that effect the re-cropping following an
imidazolinone application. These include in order of importance:
1. Product: With imazethapyr for example being more persistent
than imazamox.
2. Soil moisture: Need > 125 mm (5") of rain between herbicide application
and August 31 in the year of application.
3. Organic matter: Brown soil zone (< 3% organic matter) are more
susceptible to carry over crop injury the year after application.
4. Rate: As affected by the crop – soil residues are the issue.
5. Soil pH: Persists longer in a pH < 5.5 – 6.
Depending on the following crop the level of sensitivity will vary.
Please contact your local ADAMA ABM for more details.
PRE-HARVEST INTERVALS
Dry beans: 75 days
Field peas: 60 days
Imidazolinone-tolerant lentils: 60 days
Soybeans: 85 days
GRAZING RESTRICTION
Field peas: 30 days
Imidazolinone-tolerant lentils: 20 days
Do not graze all other treated crop.
STORAGE
Do not freeze.