STAVENTO®
A unique multi-site protectant fungicide for wheat and barley providing an anti-resistance strategy for the control of Septoria and a range of other cereal diseases....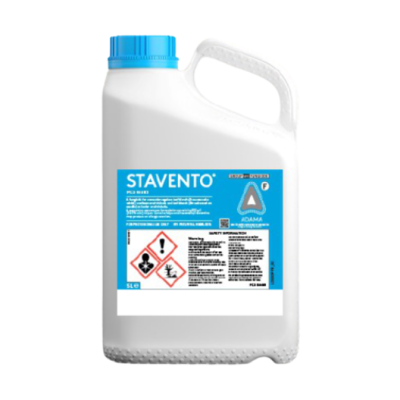 General Info
Key Benefits
Provides strong protection against Septoria.
Useful reduction of yellow and brown rust.
Does not interfere with triazole/SDHI uptake so maximises what is applied;

Crucial for optimising curative activity against Septoria.
When targeting fast cycling diseases such as rusts.

Multi-site activity to delay resistance development and extend the effective life of single site partner product.
Crop Information
Crop
Max individual
dose (L / ha)
Max number
of applications
Latest time of application
Winter & spring
wheat, winter &
spring barley
and triticale
1.5
3.0
Before end
of heading/
inflorescence fully
emerged (GS 59)
For all cropping information download the product label. 
Stavento® in wheat
• 1.0 - 1.5L prod/ha at T1 & T2
• 1.0L prod/ha at T0
High risk => 3 x 1.0L prod/ha (T0, T1, T2)
Consider including STAVENTO® at the first fungicide application in any crop
Maximum 3.0L product/crop
Product Information
Application information
Water volume: 200-400L/ha
Spray quality: Medium
Max ind. dose: 1.5L/ha
Max total dose: 3L/ha
LERAP: B
Technical Helpline
Technical Helpline: 01635 876 622
STAVENTO® is a registered trademark of ADAMA Agricultural Solutions UK Ltd.
Use plant protection products safely. Always read the label and product information before use.