HEROLD®
A contact and residual broad spectrum herbicide based on the leading grass-weed active ingredient flufenacet, for pre and post-crop emergence application.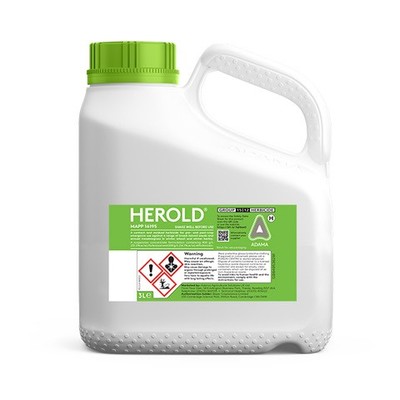 General Info
Key Benefits 
HEROLD® contains flufenacet, a key active for black-grass control
The combination of two a.i.'s from two different groups (diflufenican – F1 and flufenacet – K3) provides two different modes of action, therefore, managing the risk of herbicide resistance
Flexibility of tank mix partners to boost black-grass control and provide additional broad-leaved weed control
Crop Information
| Crop | Max individual dose (L/ha) | Max total dose (L/ha) | Latest time of application |
| --- | --- | --- | --- |
| Winter wheat | 0.3 | 0.6 | Before the 31st March in year of harvest and before 3rd tiller stage (GS 23) |
| Winter barley | 0.3 | 0.6 | Before the 31st March in year of harvest and before 4th tiller stage (GS 24) |
Use Reccomdations 
Other specific restrictions: Where the second application of a sequence is made after 31st December, the first application must be made before GS 13 of the crop. A minimum interval of 6 weeks must be observed between applications.
Product Information
Application Information
Water volume: 200-400L/ha
Spray quality: Medium
LERAP: B
Technical Helpline
Technical Helpline: 01635 876 622
HEROLD® is s a registered trademark of Bayer Aktiengesellschaft.
Use plant protection products safely. Always read the label and product information before use.