POWERTWIN®
POWERTWIN® is a co-formulated product of ethofumesate and phenmedipham. A residual and contact post-emergence herbicide for use on sugar beet, fodder beet and mangel....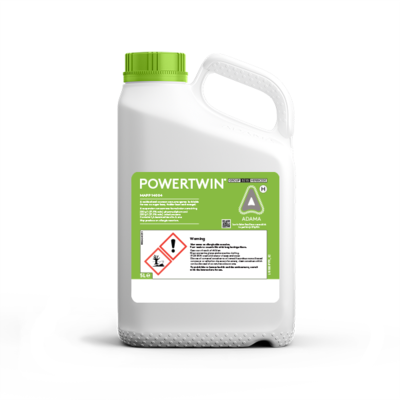 General Info
Crop Information
| Crops | Max individual dose (L/ha) | Max total dose (L/ha | Latest time of application |
| --- | --- | --- | --- |
| Sugar beet, fodder beet, mangel | 1.3 | 3.9 | Before crop leaves meet between the rows |
For all cropping information download the product label. 
Product Information
Application Information
Water volume: 80-100L/ha minimum
Spray quality: Fine
Max ind. dose: 1.3L/ha
Max. total dose: 3.9L/ha
LERAP: -
Technical Helpline
Technical Helpline: 01635 876 622
POWERTWIN® is a registered trademark of the ADAMA group.
Use plant protection products safely. Always read the label and product information before use.