TOPIK®
Controls wild-oats, rough meadow-grass and gives moderate control of Italian rye-grass in wheat, durum wheat, rye and triticale.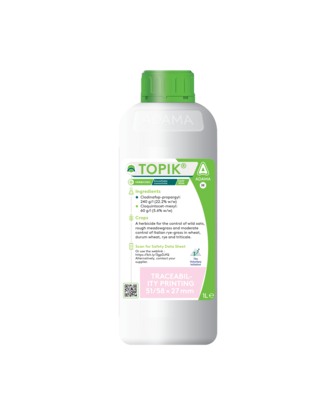 General Info
Key Benefits 
Wild oats are the most competitive grass weed – more than twice as severe as black-grass
1 plant/sqm can reduce winter cereal yields by 1.0%
Most wild oats germinate in the spring
Early wild oat control delivers significant yield increase
Crop Information
| Crops | Max individual dose (L/ha) | Max number of applications | Latest timing of application |
| --- | --- | --- | --- |
| Wheat | 0.25 | One per crop | Before flag leaf sheath extending stage (GS 41) |
| Durum wheat, rye and triticale | 0.25 | One per crop | Before second node detectable stage (GS 32) |
For all cropping information download the product label. 
Use Recommendations 
Smaller target weeds can be more effectively controlled using TOPIK®, potentially at a lower application rate. TOPIK® can be tank-mixed with SU herbicides when used at the full rate of 125ml/ha plus oil. DO NOT mix reduced rate TOPIK® with an SU. TOPIK® should not be mixed with hormone herbicides and must be used in sequence; wait 14 days from application of a hormone herbicide before using TOPIK®, or seven days after TOPIK® application before using a hormone herbicide.
Product Information
Application Information
Water volume: 100-200L/ha
Spray quality: Fine or medium
Aquatic buffer: None
Rate: 0.25L/ha (or 0.125 with adjuvant)
Technical Helpline
Technical Helpline: 01635 876 622
TOPIK® is a registered trademark of the ADAMA group.
Use plant protection products safely. Always read the label and product information before use.