Gusto® IRON
Gusto® IRON is a ferric phosphate molluscicide for use in cereals, oilseed rape, potatoes and a wide range of horticulture crops.
General Info
Gusto® IRON is an excellent value slug pellet offering:
• Durable, consistent control of key UK slug species
• Wet process Desidro technology - rainproof and superior mould resistance
• Excellent colour retention for easy detection
• Uniform size and density
• Optimum baiting points of 45/m2 @ 5kg/ha
• Excellent spread and ballistic characteristics
• Product use on a range of agricultural and horticultural crops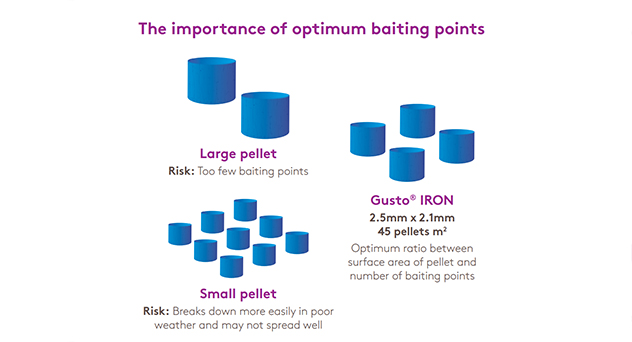 Product Information
Application information
Full label rate: 7kg/ha
Max ind. dose: 7kg/ha
Max total dose: 28kg/ha
Technical Helpline
Technical Helpline: 01635 876 622
Gusto® IRON is a registered trademark of ADAMA Agricultural Solutions UK Ltd.
Use plant protection products safely. Always read the label and product information before use.