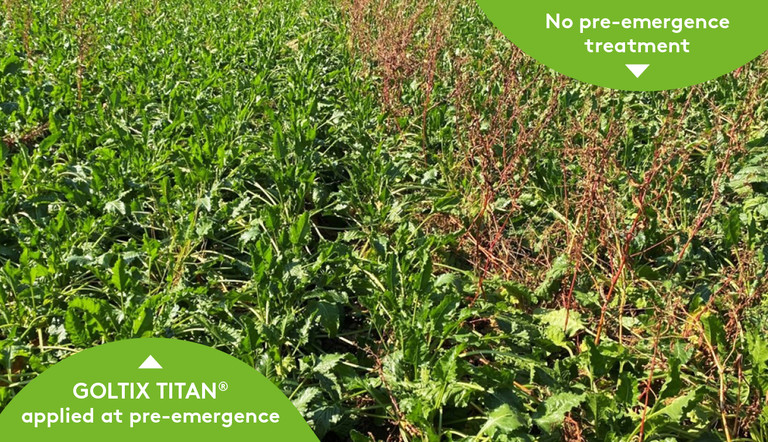 Pre-emergence herbicides boost sugar beet yields
With post-emergence herbicides for sugar beet few and far between, metamitron and quinmerac-based pre-emergence applications will be crucial this season.
Spring Blog
22 February, 2022
6min read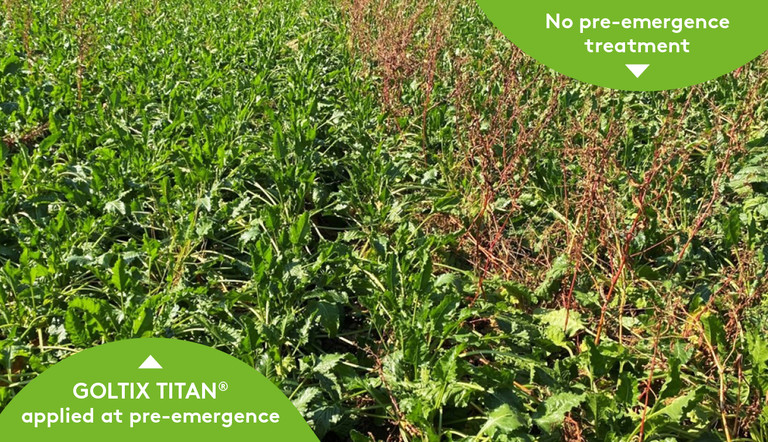 Trials have shown that by giving weed control programmes an early season kickstart, the inclusion of a pre-emergence herbicide such as Goltix (700g/l metamitron) or Goltix Titan (525g/l metamitron and 40g/l quinmerac) can help to increase yields by 7.5t/ha to 21t/ha. 
Obviously, the addition of a pre-emergence treatment will increase cropping costs, but with such significant yield improvements, the extra time and effort will be more than worth it, especially for the many modern varieties with an upright growth habit which allows greater light interception and therefore extends the germination period of weeds. 
Crops located at a distance from the farm or on land where wet conditions could delay the application of a post-emergence treatment should be prioritised for a pre-emergence treatment as the application of a residual herbicide will ensure these crops are protected ahead of time. 
Likewise, the use of a pre-emergence treatment can also be useful on land with a high weed burden (either in terms of difficult to control species or sheer population of weeds) or on crops which may not receive a post-emergence treatment at the ideal timing due to time constraints. 
Timing is critical 
Because modern sugar beet varieties are so quick to germinate, pre-emergence herbicides should ideally be applied within 24-48 hours of drilling and certainly within an absolute maximum of five days post-drilling. 
Where an early post-emergence treatment is more appropriate (for example on soils with a high organic matter content), Goltix Titan will provide excellent activity against several of the more difficult to control weeds such as cleavers, orache and bindweed. 
Pre-emergence treatments get sugar weed control off to the best start 
Split field trials carried out by ADAMA have shown that the addition of Goltix Titan at the beginning of a pre- and post-emergence programme provides superior weed control compared to programmes which rely solely on contact action at post-emergence.